Devonian-Mississippian faulting controlled by WNW-ESE-striking structural grain in Proterozoic basement rocks in Billefjorden, central Spitsbergen
Keywords:
Faults, Svalbard, Devonian-Mississippian, Timanian
Abstract
In Billefjorden, central Spitsbergen, Devonian collapse and Carboniferous rift-related sedimentary strata were deposited unconformably over Proterozoic basement rocks displaying well developed N-S-trending Caledonian grain. Caledonian structures and fabrics are thought to have controlled the location and trend of subsequent Devonian and Carboniferous basin-bounding faults like the Billefjorden fault zone and Lemströmfjellet–Løvehovden fault. However, fieldwork and interpretation of aerial photographs in Proterozoic basement rocks reveal the existence of steep, abundant, WNW-ESE-striking brittle faults that are sub-orthogonal to known major Caledonian and post-Caledonian structures in Billefjorden, but that do not extend into adjacent-overlying, rift-related, Pennsylvanian rocks of the Gipsdalen Group. Structural analysis of field data and aerial photographs suggest that WNW-ESE-striking faults in basement rocks in Billefjorden formed as (sinistral) strike-slip and normal faults during Devonian-Mississippian extension in agreement with previously inferred models of sinistral transtension. The abundance of these faults suggest that their formation was controlled by analogously trending, preexisting structural grain (planar anisotropies) at depth, and their pronounced WNW-ESE strike suggest that the strike of preexisting anisotropies were comparable to recently identified, crustal-scale, WNW-ESE-striking Timanian thrust systems in Svalbard and the northern Barents Sea.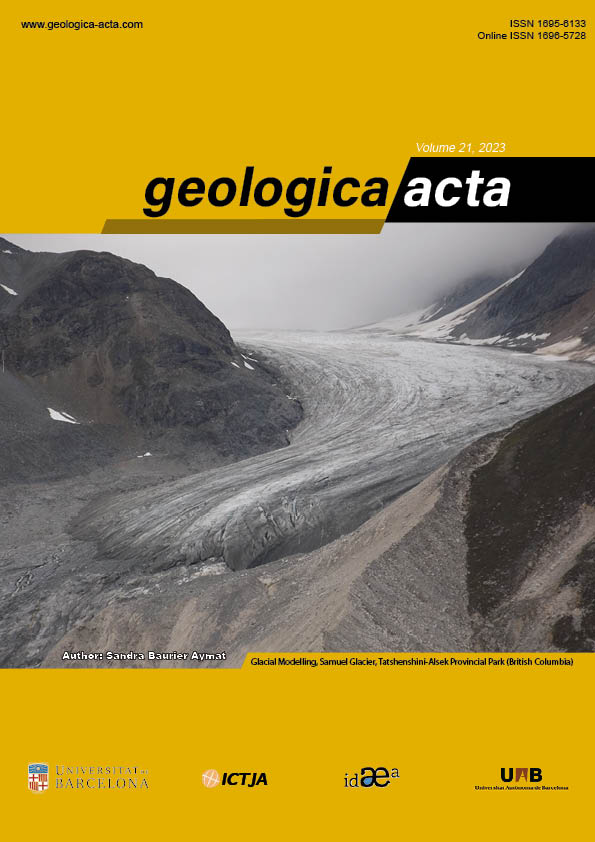 Downloads
License
Copyright (c) 2023 Geologica Acta
This work is licensed under a Creative Commons Attribution-ShareAlike 4.0 International License.
Copyright
Geologica Acta is the property of the UB, GEO3BCN, IDAEA and UAB. Geologica Acta must be cited for any partial or full reproduction. Papers are distributed under the Attribution-Share Alike Creative Commons License. This license allows anyone to reproduce and disseminate the content of the journal and even make derivative works crediting authorship and provenance and distributing possible derivative works under the same or an equivalent license.
Author Rights
Authors retain the copyright on their papers and are authorized to post them on their own web pages or institutional repositories. The copyright was retained by the journal from the year 2003 until 2009. In all cases, the complete citation and a link to the Digital Object Identifier (DOI) of the article must be included. 
The authors can use excerpts or reproduce illustrations of their papers in other works without prior permission from Geologica Acta provided the source of the paper including the complete citation is fully acknowledged.