New evidence for late Eocene-early Oligocene uplift of Aves Ridge and paleogeography of GAARlandia
Keywords:
GAARlandia, Aves Ridge, Eocene-Oligocene, Paleogeography, Biogeography, Caribbean
Abstract
The GAARlandia hypothesis has produced vigorous debate among biologists regarding whether now-submerged landforms that existed in the Caribbean region during the late Paleogene might have acted as a barrier for marine organisms and as a bridge for terrestrial biotas migrating from South America into the Greater Antilles. This concept derived from the hypothesized emergence history of the Aves Ridge. In the quarter century since GAARlandia was first proposed, new paleontological, geological and geophysical information has greatly extended the database available. Here we reaffirm that GAARlandia was a positive topographic feature from middle Eocene, and was exposed above sea level between late Eocene and early Oligocene when it facilitated biotic colonization of the northern Greater Antilles and their satellite islands, whether as a series of closely spaced islands or as a continuous peninsula projecting from northeastern South America along the crown of the rise.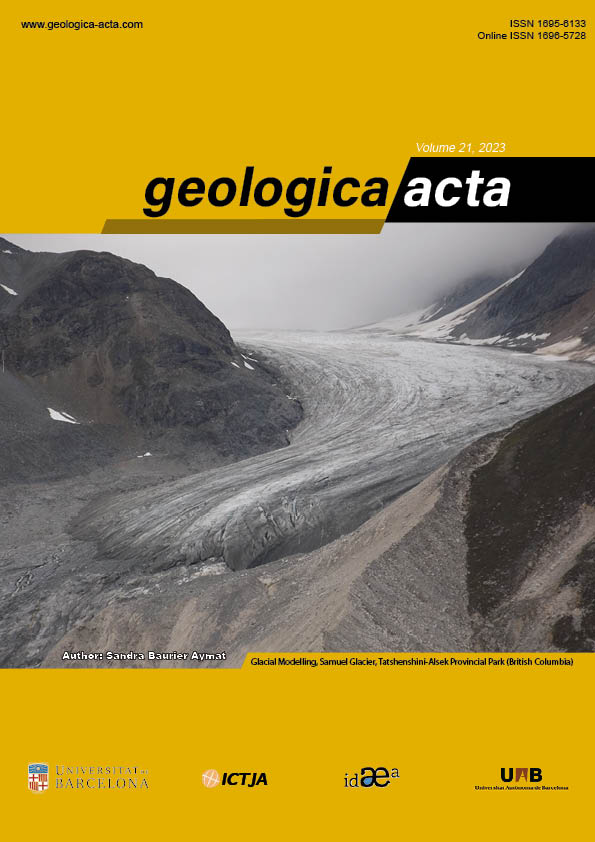 Downloads
License
Copyright (c) 2023 Geologica Acta
This work is licensed under a Creative Commons Attribution-ShareAlike 4.0 International License.
Copyright
Geologica Acta is the property of the UB, GEO3BCN, IDAEA and UAB. Geologica Acta must be cited for any partial or full reproduction. Papers are distributed under the Attribution-Share Alike Creative Commons License. This license allows anyone to reproduce and disseminate the content of the journal and even make derivative works crediting authorship and provenance and distributing possible derivative works under the same or an equivalent license.
Author Rights
Authors retain the copyright on their papers and are authorized to post them on their own web pages or institutional repositories. The copyright was retained by the journal from the year 2003 until 2009. In all cases, the complete citation and a link to the Digital Object Identifier (DOI) of the article must be included. 
The authors can use excerpts or reproduce illustrations of their papers in other works without prior permission from Geologica Acta provided the source of the paper including the complete citation is fully acknowledged.