Paleogene evolution of the External Betic Zone and geodynamic implications
Keywords:
Stratigraphy, Minero-petrography, Unconformities, Paleogeography, Geodynamic Evolution
Abstract
Interdisciplinary studies combining field data (geological and tectonic mapping, lithostratigraphic reconstructions, lithofacies characterization, correlations and sampling) and laboratory analyses (biostratigraphy, chronostratigraphy, clay mineralogy and sandstone petrography) of eight Senonian-Paleogene successions from the Sierra de La Pila and Sierra de El Carche areas (Murcia province, SE Spain) belonging to the External Betic Zone are presented. Field evidence of tectonic activity (slumps, olistostromes, syn-genetic folds, lateral variability, changes in thicknesses, para- and unconformity boundaries, stratigraphic gaps, shallowing upward trends to emersion, etc.) was found in several Paleogene intervals. The results enable a better reconstruction of the stratigraphic architecture and chronostratigraphy of the Paleogene record, highlighting in particular: facies evolution, discontinuities, depositional sequences (Middle-Upper Maastrichtian, Upper Paleocene-Middle Eocene, Oligocene-Lower Aquitanian), environmental evolution (homogeneous conditions during the Late Cretaceous and successive realm diversification from platform to slope to basin) and correlations, along the Prebetic to Subbetic transition, which is a key sector to understand the northeastward variations of the South Iberian margin. A conclusive paleogeographic and geodynamic evolutionary model for the study area is proposed, hypothesizing that Paleogene compressive tectonics affected the eastern External Betic Zone. In addition, correlations with successions from the western External Betic Zone evidenced asynchronous deformation from east to west along the internalmost External Betic Zone. Moreover, a comparison with the external Tunisian Tell enables the recognition of similar sedimentarytectonic events, imposing new constraints in the Paleogene geodynamic reconstruction throughout the western Tethys.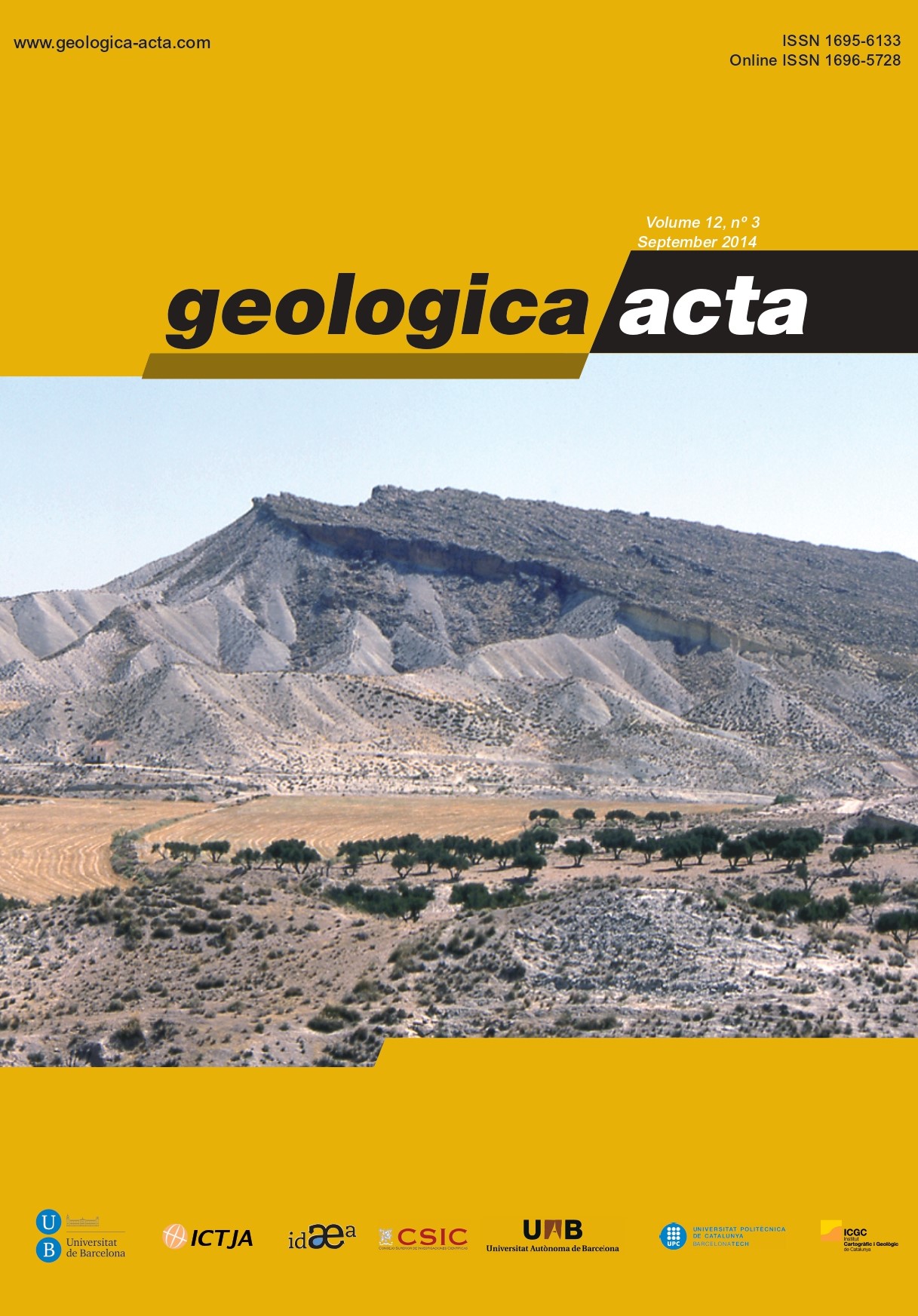 Downloads
License
Copyright
The commercial rights of the printed and online versions of Geologica Acta are property of the UB, ICTJA, IDAEA and UAB, and Geologica Acta must be cited for any partial or full reproduction.
The opinions and conclusions stated in each article are the exclusive responsability of the authors and do not necessarily coincide with those of the above mentioned institutions UB, ICTJA, IDAEA and UAB.
Author Rights
Authors retain the copyright on their papers (accepted manuscript, uncorrected proof and published paper) and are authorized to post them on their own Web page or their institutional repositories. In all cases, the complete citation and a link to the Digital Object Identifier (DOI) of the article must be included.
The authors can use excerpts or reproduce illustrations of their papers in other works without prior permission of Geologica Acta provided the source of the paper including the complete citation is fully acknowledged.
Papers are distributed under the Attribution-Share Alike Creative Commons License. This license allows others to alter, remix or build upon a paper and the resulting work may be distributed under the same or similar license to this one.