Response of alluvial systems to Late Pleistocene climate changes recorded by environmental magnetism in the Añavieja Basin (Iberian Range, NE Spain)
Keywords:
Magnetite, Environmental magnetism, Añavieja Basin, Alluvial sequence, Vegetation cover, Temperature, NGRIP curve
Abstract
Environmental magnetic proxies were analyzed in a relatively monotonous, ~25.3m thick alluvial sedimentary sequence drilled in the Añavieja Basin (NE Spain). Results from the core AÑ2 suggest that the concentrationdependent magnetic parameters mainly reflect variations in the content of detrital magnetite, sourced in the catchment rocks and soils of the basin, via changes in the dynamics of alluvial fans due to temperature changes in the northern hemisphere during the Late Pleistocene. The correspondence between the magnetic proxies and the temperature variations in the North Atlantic region (NGRIP curve) indicates that higher (lower) concentrations and finer (coarser) magnetite grains coincide with warm (cold) periods. We propose that during cold periods, a sparser vegetation cover favored the incoming of higher energy runoff bearing coarser sediments to the basin that are relatively impoverished in magnetite. In contrast, during warm periods, the wider distribution of the vegetation cover associated with the lower runoff energy lead to finer, magnetite-richer sediment input to the basin. Maghemite, presumably of pedogenic origin, appears to be present also in the studied alluvial sediments. Further studies are necessary to unravel its palaeoclimatic significance.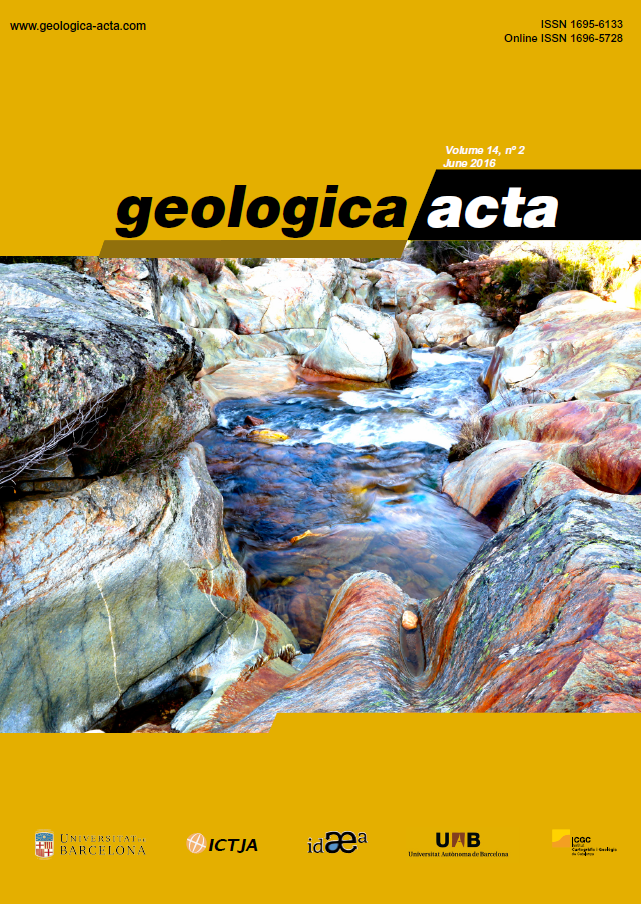 Downloads
License
Copyright
The commercial rights of the printed and online versions of Geologica Acta are property of the UB, ICTJA, IDAEA and UAB, and Geologica Acta must be cited for any partial or full reproduction.
The opinions and conclusions stated in each article are the exclusive responsability of the authors and do not necessarily coincide with those of the above mentioned institutions UB, ICTJA, IDAEA and UAB.
Author Rights
Authors retain the copyright on their papers (accepted manuscript, uncorrected proof and published paper) and are authorized to post them on their own Web page or their institutional repositories. In all cases, the complete citation and a link to the Digital Object Identifier (DOI) of the article must be included.
The authors can use excerpts or reproduce illustrations of their papers in other works without prior permission of Geologica Acta provided the source of the paper including the complete citation is fully acknowledged.
Papers are distributed under the Attribution-Share Alike Creative Commons License. This license allows others to alter, remix or build upon a paper and the resulting work may be distributed under the same or similar license to this one.