New constraints on the origin of the ophiolitic rocks within sinorogenic turbiditic sequences at Cilento region (southern Italy)
Keywords:
Southern Apennine, Cilento region, Mount Centaurino, Ophiolitic olistoliths, MORB-type rocks,
Abstract
Mafic igneous rocks (pillow lavas and gabbros) embedded as olistoliths within Miocene turbiditic sequences crop out in the Cilento area at the Mount Centaurino (Campania region, Southern Italy). The concentration of major oxides, as well as trace element ratios (Nb/Yb, Nb/Ta, Th/Nb) and the chondrite-normalized Rare Earth Elements (REE) patterns suggest a tholeiitic character with Mid Oceanic Ridge Basalts (MORB) affinity. The chemical composition of pillow lavas is consistent with magmas generated by 10% degrees of non-modal fractional partial melting, of a spinel-bearing MORB-type asthenospheric mantle. Regarding gabbros, the calculated composition of parental melts in equilibrium with the clinopyroxenes show a wide compositional range, and there are very different from the pillow basalts of the Mount Centaurino, suggesting that the clinopyroxenes might have derived from more evolved melts compared to those that produced the basalts. The origin of these olistoliths is not yet understood. Here we suggest that these rocks represent fragment of a dismantled accretionary wedge embedded during the deposition of the Cilento group sedimentary successions in a thrust top basin.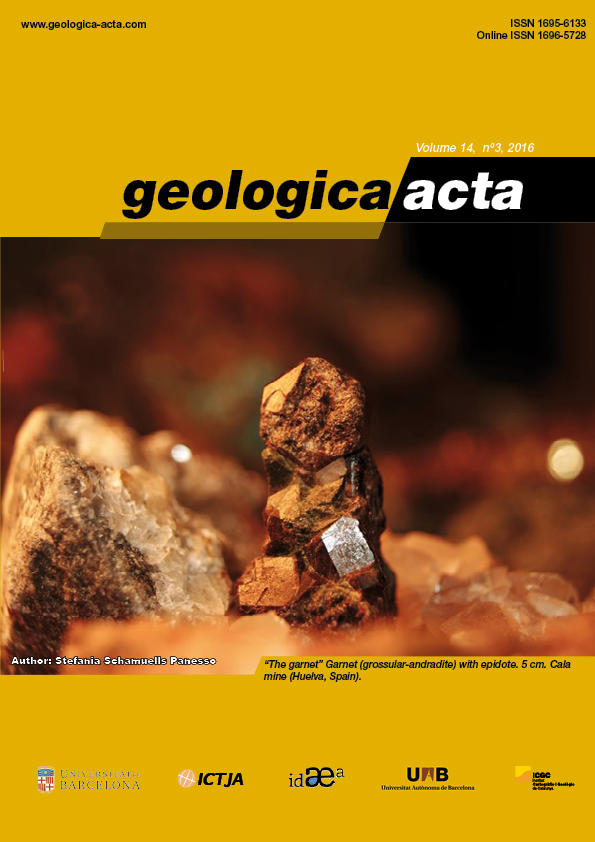 Downloads
License
Copyright
The commercial rights of the printed and online versions of Geologica Acta are property of the UB, ICTJA, IDAEA and UAB, and Geologica Acta must be cited for any partial or full reproduction.
The opinions and conclusions stated in each article are the exclusive responsability of the authors and do not necessarily coincide with those of the above mentioned institutions UB, ICTJA, IDAEA and UAB.
Author Rights
Authors retain the copyright on their papers (accepted manuscript, uncorrected proof and published paper) and are authorized to post them on their own Web page or their institutional repositories. In all cases, the complete citation and a link to the Digital Object Identifier (DOI) of the article must be included.
The authors can use excerpts or reproduce illustrations of their papers in other works without prior permission of Geologica Acta provided the source of the paper including the complete citation is fully acknowledged.
Papers are distributed under the Attribution-Share Alike Creative Commons License. This license allows others to alter, remix or build upon a paper and the resulting work may be distributed under the same or similar license to this one.