Zircon U-Pb geochronology and emplacement history of intrusive rocks in the Ardestan section, central Iran
Keywords:
Zircon, Geochronology, Ardestan, Urumieh-Dokhtar Magmatic Arc belt, Iran
Abstract
The Urumieh-Dokhtar Magmatic Arc (UDMA) is part of the Alpine–Himalayan orogenic belt and interpreted to be a subduction-related Andean-type magmatic arc. Along this belt, Eocene volcanics and some gabbroic to granitic bodies crop out. The main rock types of the studied intrusion are granite, granodiorite, and diorite. They have geochemical features typical of magnesian, calc-alkaline, metaluminous to slightly peraluminous granites and I-type intrusive rock that have a strong enrichment in Large-Ion Lithophile (LIL) elements (e.g. Rb, Ba, Sr), and a depletion in High Field Strength (HFS) elements (e.g. Nb, Ti, P), typical of subduction-related magmas. Zircon U-Pb dating was applied to determine the emplacement ages of the different intrusions in the Ardestan area. Among them the Kuh-e Dom diorite is 53.9±0.4Ma old; the Kuh-e Dom granodiorite is 51.10±0.4Ma old; the Mehrabad granodiorite is 36.8±0.5Ma old, the Nasrand granodiorite is 36.5±0.5Ma old, the Zafarghand granodiorite is 24.6±1.0Ma old, and the Feshark granodiorite is 20.5±0.8Ma old. These results delineate more accurately the magmatic evolution related to the Neotethyan subduction from the Lower Eocene to Lower Miocene, and the subsequent Zagros orogeny that resulted from the Arabia-Eurasia collision. The emplacement of these intrusive rocks inside the UDMA, which has a close relationship with the collisional orogeny, is transitional from a subduction-related setting to post-collisional setting in the Ardestan area.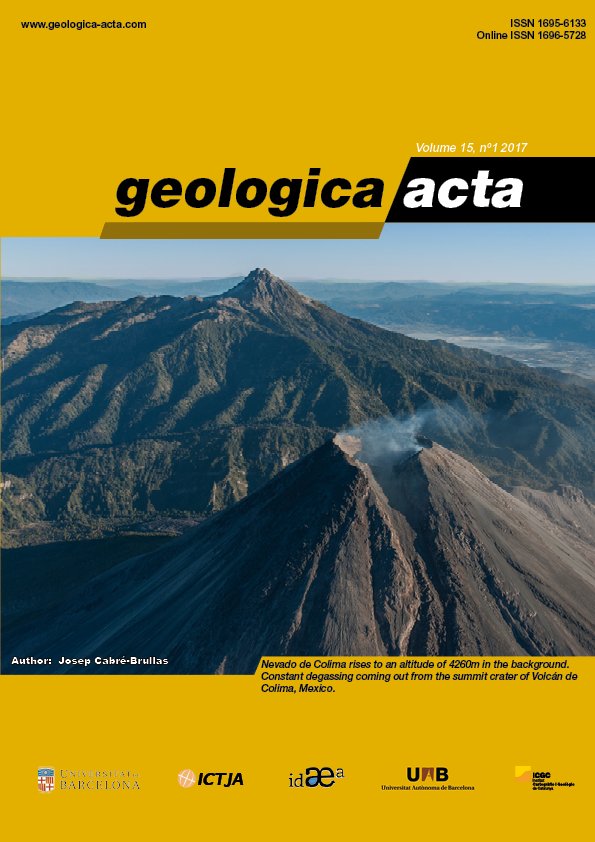 Downloads
License
Copyright
The commercial rights of the printed and online versions of Geologica Acta are property of the UB, ICTJA, IDAEA and UAB, and Geologica Acta must be cited for any partial or full reproduction.
The opinions and conclusions stated in each article are the exclusive responsability of the authors and do not necessarily coincide with those of the above mentioned institutions UB, ICTJA, IDAEA and UAB.
Author Rights
Authors retain the copyright on their papers (accepted manuscript, uncorrected proof and published paper) and are authorized to post them on their own Web page or their institutional repositories. In all cases, the complete citation and a link to the Digital Object Identifier (DOI) of the article must be included.
The authors can use excerpts or reproduce illustrations of their papers in other works without prior permission of Geologica Acta provided the source of the paper including the complete citation is fully acknowledged.
Papers are distributed under the Attribution-Share Alike Creative Commons License. This license allows others to alter, remix or build upon a paper and the resulting work may be distributed under the same or similar license to this one.