Middle-Late Eocene marine record of the Biga Peninsula, NW Anatolia, Turkey
Keywords:
Larger Benthic Foraminifera (LBF), Stratigraphy, Biostratigraphy, Biga Peninsula, Eocene
Abstract
The Eocene shallow marine deposits marking the first marine incursion in the Biga Peninsula (NW Turkey) after the collision of the Sakarya and Anatolide-Tauride plates were investigated based on paleontological, litho- and chrono-stratigraphic data. Larger Benthic Foraminifera (LBF) from patchily distributed outcrops were studied in order to i) revise the stratigraphy of Eocene shallow marine units, and ii) establish a modern biostratigraphic setting and a correlation scheme. The Şevketiye Formation (Fm.) is herein defined as a predominantly shallow marine clastic deposit with subordinate carbonates overlying the Çamlıca metamorphic rocks, and passing laterally to the Soğucak Fm., a carbonate unit that is widely represented in the Thrace Basin. The record of alveolinids, primitive developmental stages of heterosteginids, and orthophragminids in the Şevketiye Fm. suggests that this formation is part of the Shallow Benthic Zones (SBZ) 16?/17 (Late Lutetian?/Early Bartonian), SBZ17?/18 and SBZ19A (Early Bartonian/earliest Priabonian). The Soğucak Fm., which overlies the Eocene volcanics, on the other hand, yielded advanced developmental stages of heterosteginids, Spiroclypeus sp. and Nummulites fabianii lineages, implying a younger marine incursion during the Late Eocene (earliest Priabonian; SBZ19A). A drastic shift in the depositional regime is marked amid Priabonian by the deposition of deep-marine clastics and volcanoclastics of the Ceylan Fm. In conclusion, the Eocene Sea transgressed first Gökçeada (in the Aegean Sea) during the Late Lutetian, then reached the Biga and Gelibolu peninsulas in the Bartonian, and finally led to the widespread deposition of carbonate and siliciclastic rocks in the Biga Peninsula and the Thrace Basin during the Late Bartonian and Priabonian.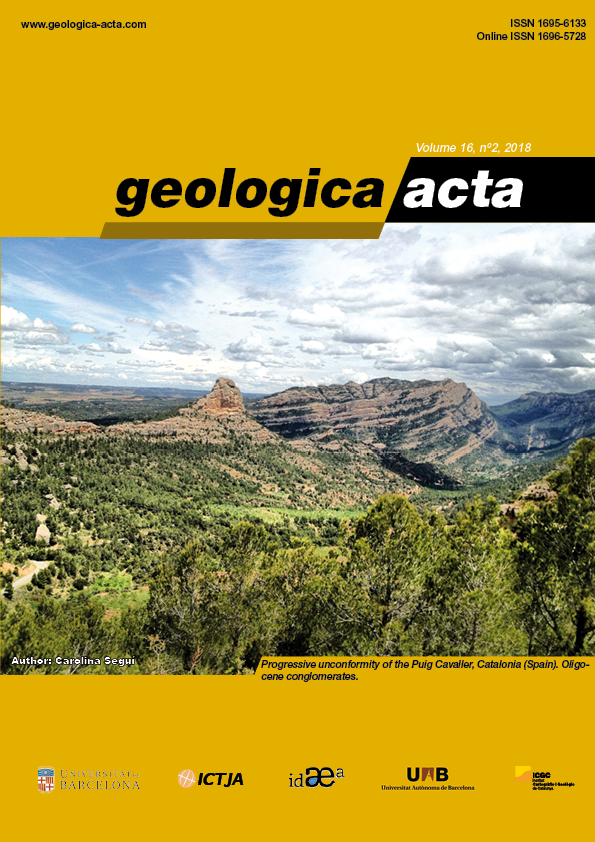 Downloads
License
Copyright (c) 2018 Geologica Acta
This work is licensed under a Creative Commons Attribution-ShareAlike 4.0 International License.
Copyright
Geologica Acta is the property of the UB, GEO3BCN, IDAEA and UAB. Geologica Acta must be cited for any partial or full reproduction. Papers are distributed under the Attribution-Share Alike Creative Commons License. This license allows anyone to reproduce and disseminate the content of the journal and even make derivative works crediting authorship and provenance and distributing possible derivative works under the same or an equivalent license.
Author Rights
Authors retain the copyright on their papers and are authorized to post them on their own web pages or institutional repositories. The copyright was retained by the journal from the year 2003 until 2009. In all cases, the complete citation and a link to the Digital Object Identifier (DOI) of the article must be included. 
The authors can use excerpts or reproduce illustrations of their papers in other works without prior permission from Geologica Acta provided the source of the paper including the complete citation is fully acknowledged.