Deformation pattern around the Conejera fault blocks (Asturian Basin, North Iberian Margin)
Keywords:
Asturian Basin, Conejera Fault blocks, Deformation patterns, Reactivation, North Iberian Margin.
Abstract
The Asturian Basin is located on the coastline of the North Iberian Margin. This basin is dissected by long-lived E-, NE- and NW-striking faults that delineate a series of extensional fault blocks that became shortened during the Upper Cretaceous to Cenozoic Alpine convergence. In the Conejera cove, the NE-striking and SE-dipping Conejera Fault displays a remarkable example of contractional deformation, promoted by the mechanical contrast within the Lower to Middle Jurassic stratigraphic series. Field observations and structural analysis carried out in this study reveal: i) a first system of orthogonal cross-joints oblique to the Conejera Fault and other major onshore boundary faults, ii) a second system of meso-extensional faults parallel to the Conejera Fault, and developed by the reactivation and linkage of the orthogonal cross-joints and iii) a series of contractional folds, thrusts and pressure solution with a predominant NE to ENE trend. Observed relationships and structural analysis suggest an obliquity between the here inferred direction of the Late Jurassic-Early Cretaceous stretching (i.e. about N015E) and the onshore boundary faults, whereas the contractional structures are broadly parallel to the NE-striking Conejera Fault and suggest a roughly SSE- to SE-oriented Alpine convergence.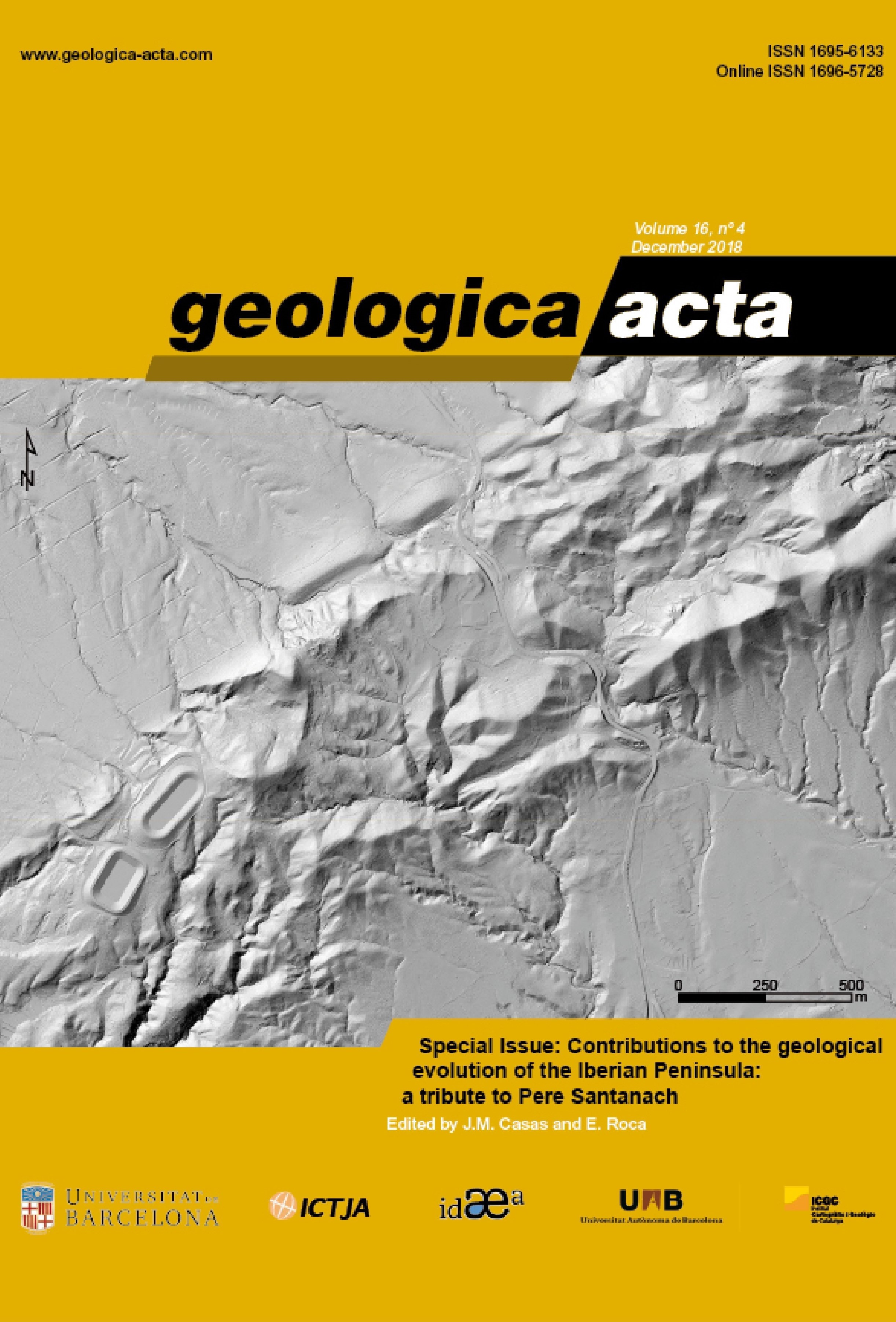 Downloads
Section
A tribute to Pere Santanach
License
Copyright
Geologica Acta is the property of the UB, GEO3BCN, IDAEA and UAB. Geologica Acta must be cited for any partial or full reproduction. Papers are distributed under the Attribution-Share Alike Creative Commons License. This license allows anyone to reproduce and disseminate the content of the journal and even make derivative works crediting authorship and provenance and distributing possible derivative works under the same license or an equivalent license.
Author Rights
Authors retain the copyright on their papers and are authorized to post them on their own web pages or institutional repositories. In all cases, the complete citation and a link to the Digital Object Identifier (DOI) of the article must be included.
The authors can use excerpts or reproduce illustrations of their papers in other works without prior permission from Geologica Acta provided the source of the paper including the complete citation is fully acknowledged.