Minorca, an exotic Balearic island (western Mediterranean)
Keywords:
Minorca, Balearic islands, Western Mediterranean, Stratigraphy, Structural Geology.
Abstract
Despite forming part of the Balearic group of islands, Minorca differs stratigraphically and structurally from Majorca and Ibiza: i) Paleozoic rocks are abundant in Minorca but are very scarce in Majorca and are absent in Ibiza. Eocene-Oligocene sediments are virtually absent in Minorca but crop out extensively in Majorca, ii) Contractional structures in Minorca differ in direction (aligned SW-NE in Majorca and Ibiza and N-S in Minorca) and in age from those in Majorca and Ibiza. In addition, Paleozoic deposits of Minorca do not correlate with those of Sardinia, where in addition the Triassic sediments are not very abundant. Contractional deformation in Sardinia is in part older (late Eocene-early Miocene) than in Minorca (early Miocene?). Given its Neogene clockwise rotation, Minorca cannot be considered a small block dragged by the early Miocene counter clockwise rotation of the Corsica-Sardinia block. Furthermore, the Paleozoic and Mesozoic stratigraphy of Minorca (siliciclasticlate Paleozoic rocks, Triassic Germanic facies and Jurassic carbonates) has affinities with that of the southern part of the Catalan Coastal Ranges. Thus, of all the Balearic islands, Minorca seems to have traveled the farthest during the Valencia Trough rifting with the result that it resembles an exotic island forming part of the Balearic foreland.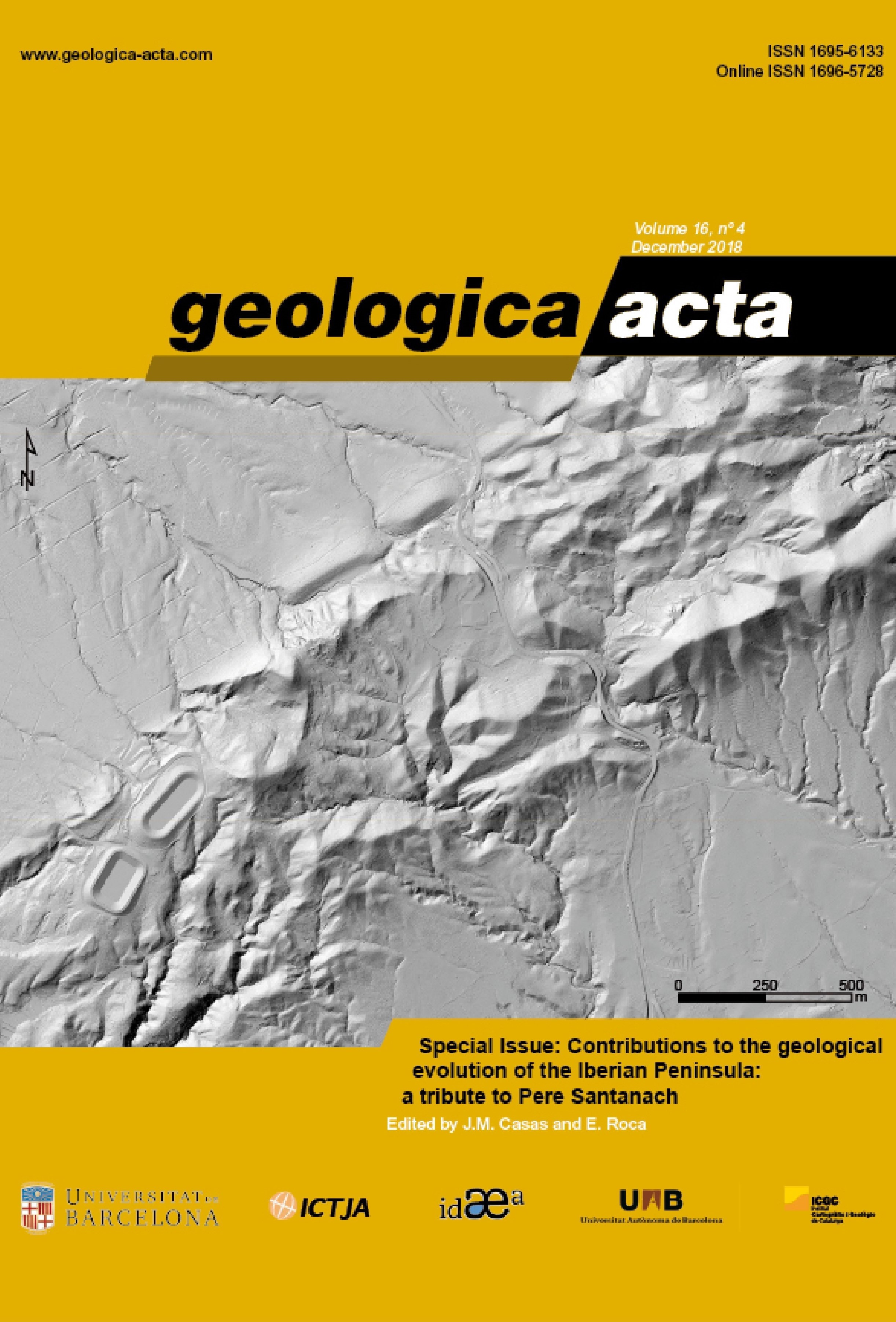 Downloads
Section
A tribute to Pere Santanach
License
Copyright
Geologica Acta is the property of the UB, GEO3BCN, IDAEA and UAB. Geologica Acta must be cited for any partial or full reproduction. Papers are distributed under the Attribution-Share Alike Creative Commons License. This license allows anyone to reproduce and disseminate the content of the journal and even make derivative works crediting authorship and provenance and distributing possible derivative works under the same license or an equivalent license.
Author Rights
Authors retain the copyright on their papers and are authorized to post them on their own web pages or institutional repositories. In all cases, the complete citation and a link to the Digital Object Identifier (DOI) of the article must be included.
The authors can use excerpts or reproduce illustrations of their papers in other works without prior permission from Geologica Acta provided the source of the paper including the complete citation is fully acknowledged.