First evidence of paleoearthquakes along the Carboneras Fault Zone (SE Iberian Peninsula): Los Trances site
Keywords:
Paleoseismology, Eastern Betics Shear Zone, Carboneras Fault Zone, Seismogenic fault
Abstract
Seismogenic faults that have not produced historical large earthquakes remain unnoticed and, thus, are dangerously left out from seismic hazard analyses. The seismogenic nature of the Carboneras Fault Zone, a left-lateral strikeslip fault in the Eastern Betic Shear Zone (southeastern Spain), has not been fully explored to date in spite of having a morphological expression equivalent to the Alhama de Murcia Fault, a seismogenic fault in the same tectonic system. This study provides the first paleoseismic evidence of the seismogenic nature of the Carboneras Fault Zone, based on the analysis of 3 trenches at Los Trances site, on the northwestern edge of the La Serrata Range. Cross cutting relationships and numerical dating, based on radiocarbon, thermoluminescence and U-series, reveal a minimum of 4 paleoearthquakes: Paleoearthquake1 (the oldest) and Paleoearthquake2 took place after 133ka, Paleoearthquake3 occurred between 83–73ka and Paleoearthquake4 happened after 42.5ka (probably after 30.8ka), resulting in a maximum possible average recurrence of 33ka. This value, based on a minimum amount of paleoearthquakes, is probably overestimated, as it does not scale well with published slip-rates derived from offset channels or GPS geodetical data. The characterization of this fault as seismogenic, implies that it should be considered in the seismic hazard analyses of the SE Iberian Peninsula.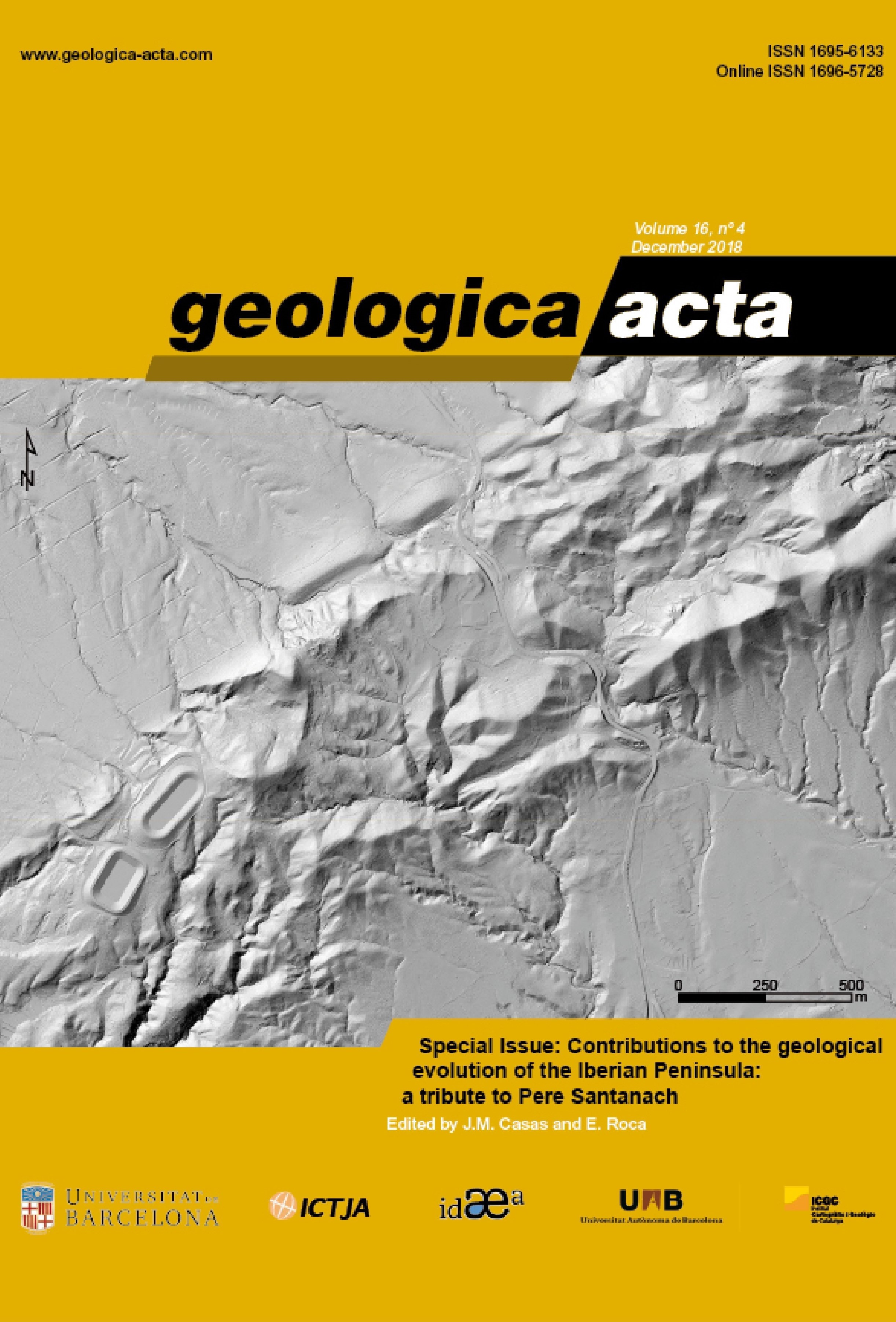 Downloads
Section
A tribute to Pere Santanach
License
Copyright
Geologica Acta is the property of the UB, GEO3BCN, IDAEA and UAB. Geologica Acta must be cited for any partial or full reproduction. Papers are distributed under the Attribution-Share Alike Creative Commons License. This license allows anyone to reproduce and disseminate the content of the journal and even make derivative works crediting authorship and provenance and distributing possible derivative works under the same license or an equivalent license.
Author Rights
Authors retain the copyright on their papers and are authorized to post them on their own web pages or institutional repositories. In all cases, the complete citation and a link to the Digital Object Identifier (DOI) of the article must be included.
The authors can use excerpts or reproduce illustrations of their papers in other works without prior permission from Geologica Acta provided the source of the paper including the complete citation is fully acknowledged.