Lower Eocene sedimentary succession and microfossil biostratigraphy in the central northern Caucasus basin
Keywords:
Nannofossils, Dinocysts, Biostratigraphy, Lithology, Sapropelites, NE Peri-Tethys, Northern Caucasus, Ypresian, Lower Eocene
Abstract
The lower Eocene sediments from the classical Paleogene section exposed along the Kheu River, northern Caucasus, southern Russia are here studied. This ca. 50m thick succession is lithologically contrasting: the lower and upper parts are composed by soft marls separated by a thick Radiolaria-rich unit of non-calcareous and low-calcareous mudstones with intercalations of compact cherty layers. According to nannofossil and dinocyst biostratigraphy, the unique intercalation of Total Organic Carbon (TOC)-rich sediment (sapropelitic bed) in the lower part of the lower Eocene correspond to the Paleocene-Eocene Thermal Maximum (PETM) and a series of sapropelitic interlayers in the upper marly part of the lower Eocene succession correlates with the Early Eocene Climatic Optimum (EECO). The study of nannofossil and dinocyst assemblages enabled detailed zonal subdivision and first-order calibration of nannofossil and dinocyst bio-events during this time-span. The studied interval of the section embraces the complete succession of nannofossil zones NP9-NP13 of Martini, 1971, CP8-CP11 of Okada and Bukry, 1980 and CNP11-CNE5 of Agnini et al., 2014. By means of dinocyst stratigraphy, the succession of Apectodinium hyperacanthum, Axiodinium augustum, Deflandrea oebisfeldensis, Dracodinium astra, Stenodinium meckelfeldense, Dracodinium varielongitudum, Ochetodinium romanum/Samlandia chlamydophora and Areosphaeridium diktyoplokum zones are identified in the Ypresian part of the Kheu section.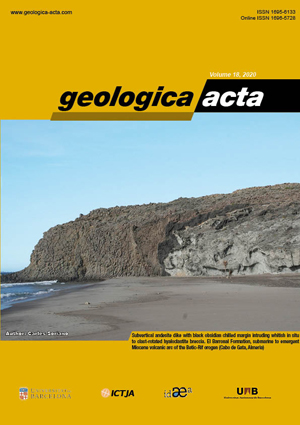 Downloads
License
Copyright
The commercial rights of the printed and online versions of Geologica Acta are property of the UB, ICTJA, IDAEA and UAB, and Geologica Acta must be cited for any partial or full reproduction.
The opinions and conclusions stated in each article are the exclusive responsability of the authors and do not necessarily coincide with those of the above mentioned institutions UB, ICTJA, IDAEA and UAB.
Author Rights
Authors retain the copyright on their papers (accepted manuscript, uncorrected proof and published paper) and are authorized to post them on their own Web page or their institutional repositories. In all cases, the complete citation and a link to the Digital Object Identifier (DOI) of the article must be included.
The authors can use excerpts or reproduce illustrations of their papers in other works without prior permission of Geologica Acta provided the source of the paper including the complete citation is fully acknowledged.
Papers are distributed under the Attribution-Share Alike Creative Commons License. This license allows others to alter, remix or build upon a paper and the resulting work may be distributed under the same or similar license to this one.