Wildfire evidence from the Middle and Late Permian Hanxing Coalfield, North China Basin
Keywords:
Wildfire, Sedimentary rock, Permian, North China basin
Abstract
Earth has a long geological history and palaeo-wildfire is one of the key factors which is responsible for the evolution and extinction of our earth systems. The most important extinction of our earth systems is the Permian-Triassic mass extinction. The objective of this paper is to evaluate the product of wildfire in terms of distribution and occurrences from the Late Permian North China basin. Fourteen rock samples were collected from a drill core of Hanxing Coalfield of North China basin. The samples were analyzed by macro and micro petrography, Scanning Electron Microscopy (SEM), Gas Chromatography (GC) and Gas Chromatography–Mass Spectrometry (GC-MS) in order to study the evidence of wildfire. Charcoal (inertinite) particles are observed in the samples, which established the occurrences of wildfire during the upper Middle and Late Permian time in North China. Additionally, high-molecular-weight Polycyclic Aromatic Hydrocarbons (PAHs) were detected in the studied samples which also reinforce the presence of palaeo–wildfire events in the North China basin in Late Permian due to the fact that these aromatic compounds were formed under high temperatures.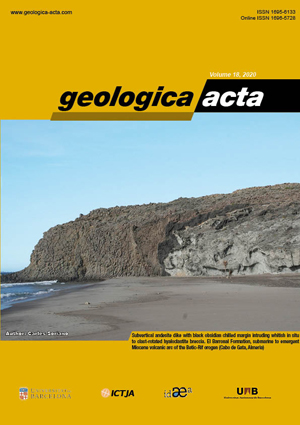 Downloads
License
Copyright
Geologica Acta is the property of the UB, GEO3BCN, IDAEA and UAB. Geologica Acta must be cited for any partial or full reproduction. Papers are distributed under the Attribution-Share Alike Creative Commons License. This license allows anyone to reproduce and disseminate the content of the journal and even make derivative works crediting authorship and provenance and distributing possible derivative works under the same license or an equivalent license.
Author Rights
Authors retain the copyright on their papers and are authorized to post them on their own web pages or institutional repositories. In all cases, the complete citation and a link to the Digital Object Identifier (DOI) of the article must be included.
The authors can use excerpts or reproduce illustrations of their papers in other works without prior permission from Geologica Acta provided the source of the paper including the complete citation is fully acknowledged.