Online ISSN: 2014-8534
Print ISSN: 2014-8526
ABRIU is an annual scientific journal edited by Estudis Gallecs i Portuguesos, Universitat de Barcelona (Galician and Portuguese Studies, University of Barcelona). Its goal is to offer to the academic community a space for debating textuality (literature, films, scenic arts, music...) in the frame of Brazilian, Galician and Portuguese. Each issue consists of a monograph, along with miscellaneous articles, and editorial book reviews. It  is published simultaneously in print and electronically with free access.
Announcements
ABRIU 2 (2013) Monograph: Renaissance Dialogs Between Orient and the West

Issue Editor: Isabel Soler

Deadline for all the sections: March 1st, 2013

Posted: 2012-12-14
More...
No 1 (2012): √Ālvaro Cunqueiro en Catalu√Īa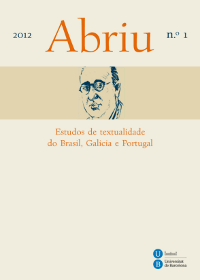 Scientific journal recognized by the University of Barcelona (2012). Covered by: Raco, Dialnet.
ISSN 2014-8526  
e-ISSN 2014-8534  
DL B-18.111-2012  
e-DL B 18.110-2012