Who was L. Licinius Sura, Hispanus, on a curse tablet from Siscia?
Paraules clau:
Roman period, Siscia, Pannonia, river god Savus, defixio, L. Licinius Sura
Resum
A lead tablet found in the Kupa River at Siscia (Pannonia, present-day Sisak) is a unique judicial curse tablet, in which the river god Savus was invoked to harm the adversaries of the authors of the text. The inner side bears the names of their opponents involved in a lawsuit. Three adversaries are listed first: G. Domitius Secundus, Lucius Larcius, and Valerius Secundus, probably all from Cibalae (Pannonia, present-day Vinkovci). Other names include P. Caetronius and G. Corellius from Narbo (Narbonne) in Gallia and L. Licinius Sura from Hispania, as well as Lucilius Valens, who was very likely from Siscia, where the Lucilii are well documented. It is argued in the article that L. Licinius Sura should not be identified with the Roman senator from Tarraco and Trajan's adviser and friend, but should rather be regarded as a homonymous person of a lower social standing, whose parents gave him the name Sura, considering it to be a good omen.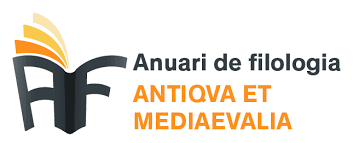 Descàrregues
Com citar
ŠaŠel Kos, M. "Who Was L. Licinius Sura, Hispanus, on a Curse Tablet from Siscia?". Anuari De Filologia. Antiqua Et Mediaeualia, no. 8, Dec. 2018, pp. 828-3, https://revistes.ub.edu/index.php/AFAM/article/view/27176.
Llicència
L'autor/a que publica en aquesta revista està d'acord amb els termes següents:
a. L'autor/a conserva els drets d'autoria i atorga a la revista el dret de primera publicació de l'obra.
b. Els textos es difondran amb la llicència de Reconeixement de Creative Commons, la qual permet compartir l'obra amb tercers, sempre que en reconeguin l'autoria, la publicació inicial en aquesta revista i les condicions de la llicència.
Taxes d'enviament i publicació: Anuari de Filologia. Antiqua et Mediaevalia no cobra taxes per tramesa de treballs, ni tampoc quotes per la publicació dels seus articles.