Rubem Fonseca and Noir Literature
Keywords:
Rubem Fonseca, Brazilian crime fiction, violence in literature, brutalism
Abstract
Rubem Fonseca is considered a key author in the introduction of crime fiction in Brazil. This article reviews his contribution to the genre and analyzes the specifics of his narrative in the context of Brazilian literature, in which Fonseca breaks from and exceeds the traditional dichotomies between high and popular literature. Fonseca becomes part of the distinct tradition of crime fiction, which he reinterprets differently in his short stories by giving voice to the marginalized, and in his novels by incorporating elements of hardboiled, noir fiction, and even whodunit. The character of Mandrake is situated in a context that increasingly includes paraliterary concerns.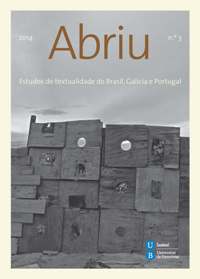 Downloads
How to Cite
Comellas, P. (2014). Rubem Fonseca and Noir Literature. Abriu: Estudos De Textualidade Do Brasil, Galicia E Portugal, (3), 51–69. https://doi.org/10.1344/abriu2014.3.3
License
The Author retains ownership of the copyright of the article, unless the contrary is stated, and all rights not expressly granted in this agreement, including the non-exclusive right to reproduce, distribute, perform, and display the article in print or electronic form, and grants to Abriu: estudos de textualidade do Brasil, Galicia e Portugal the exclusive rights to first publication of the Article. The work will be available under a Creative Commons Attribution-Noncommercial-No Derivative Works license, by which the article must be credited to the Author and the Journal must be credited as first place of publication.