The Bartonian-Priabonian marine record of the eastern South Pyrenean foreland basin (NE Spain): a new calibration of the larger foraminifers and calcareous nannofossil biozonation
Keywords:
Middle/Late Eocene, Chronostratigraphy, Magnetostratigraphy, Biostratigraphy, Time Scale
Abstract
This study presents a combined biostratigraphic (calcareous nannofossils, larger foraminifers) and magnetostratigraphic study of the Middle and Late Eocene marine units of the Igualada area, eastern Ebro Basin. The studied sections of Santa Maria de Miralles and La Tossa encompass the complete marine succession of the Santa Maria Group, where assemblages rich in larger foraminifers have been studied since the early 1950's. A total of 224 paleomagnetic sites and 62 biostratigraphic samples were collected along a 1350m-thick section that ranges from chron C20n to chron C16n (∼43Ma to ∼36Ma). The resulting magnetostratigraphy-based chronology challenges existing chronostratigraphic interpretations of these units and results in a new calibration of the biostratigraphic zonations. The base of calcareous nannofossil Zone NP19-20 is pinned down to an older age than its presently accepted attribution, whereas the time span assigned to Zone NP18 is significantly reduced. A revised calibration of larger foraminifers indicates that Zone SBZ18, formerly assigned exclusively to the late Bartonian, extends its range to the earlymost Priabonian, the Bartonian stage being almost entirely represented by Zone SBZ17. A division of Zone SBZ18 into two subzones is proposed.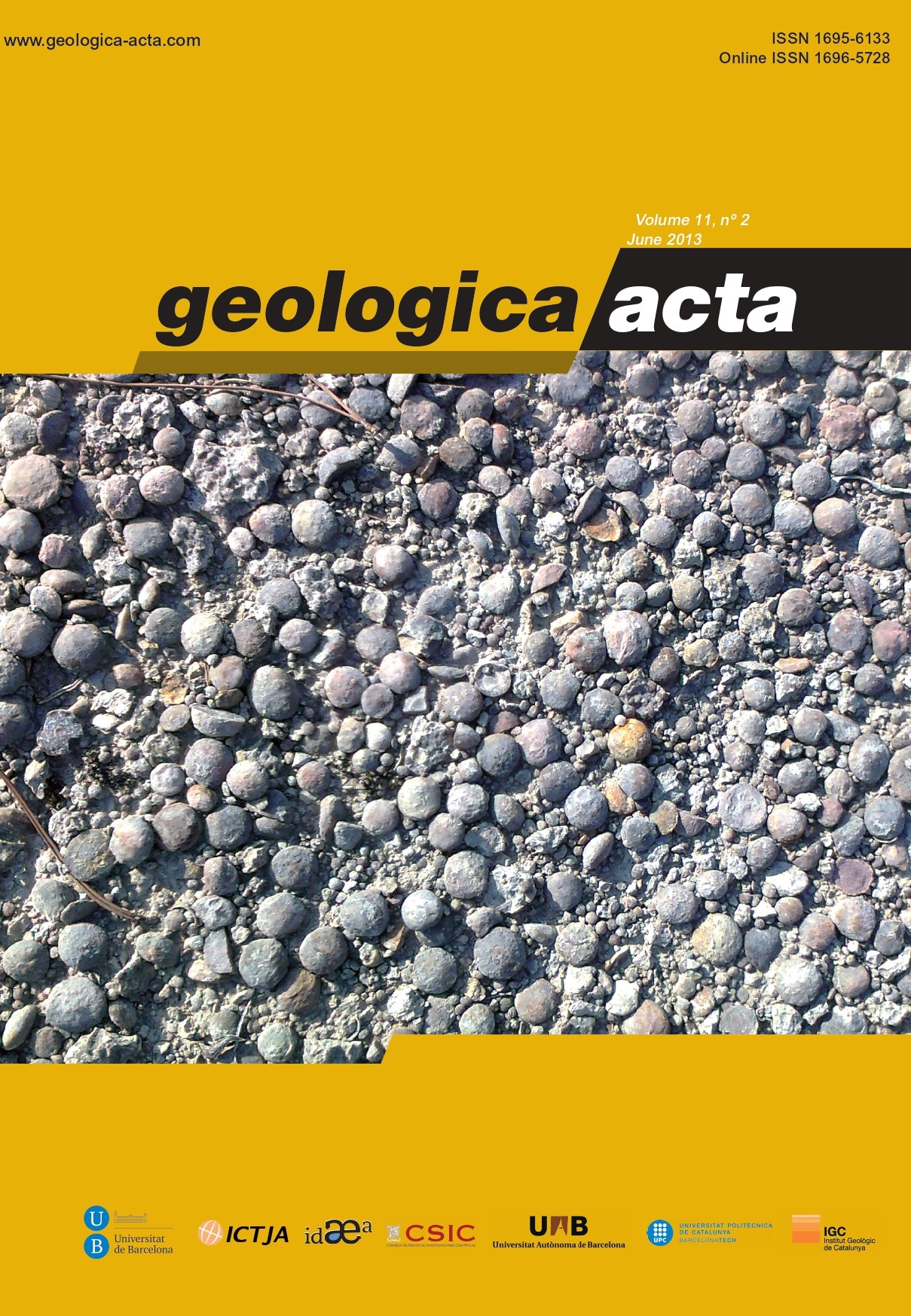 Downloads
License
Copyright
The commercial rights of the printed and online versions of Geologica Acta are property of the UB, ICTJA, IDAEA and UAB, and Geologica Acta must be cited for any partial or full reproduction.
The opinions and conclusions stated in each article are the exclusive responsability of the authors and do not necessarily coincide with those of the above mentioned institutions UB, ICTJA, IDAEA and UAB.
Author Rights
Authors retain the copyright on their papers (accepted manuscript, uncorrected proof and published paper) and are authorized to post them on their own Web page or their institutional repositories. In all cases, the complete citation and a link to the Digital Object Identifier (DOI) of the article must be included.
The authors can use excerpts or reproduce illustrations of their papers in other works without prior permission of Geologica Acta provided the source of the paper including the complete citation is fully acknowledged.
Papers are distributed under the Attribution-Share Alike Creative Commons License. This license allows others to alter, remix or build upon a paper and the resulting work may be distributed under the same or similar license to this one.