Late Carboniferous colonial Rugosa (Anthozoa) from Alaska
Keywords:
Colonial Rugosa (Anthozoa), Late Carboniferous, Alaska, Phylogeny, Palaeogeography
Abstract
Late Carboniferous colonial corals from the Moscovian Saginaw Bay Formation and the underlying Bashkirian crinoidal limestone exposed on northeastern Kuiu Island and a nearby islet, part of the Alexander terrane in southeastern Alaska, are described and illustrated for the first time, and are supplemented by revision, redescription and reillustration of most Atokan specimens from Brooks Range, northern Alaska, first described by Armstrong (1972). New taxa from the Kuiu Island area include the new species Paraheritschioides katvalae and the new genus and species Arctistrotion variabilis, as well as the new Subfamily Arctistrotioninae. The corals Corwenia jagoensis and Lithostrotionella wahooensis of Armstrong (1972) also are redefined and redescribed. Paraheritschioides jagoensis is based on the holotype of 'C'. jagoensis. P. compositus sp. nov. is based on a "paratype" of 'C.' jagoensis. In addition to a redefinition and redescription of 'L.' wahooensis as Arctistrotion wahooense, one "paratype" of that species is described as A. simplex sp. nov. The phylogeny and suspected relationships of some fasciculate Carboniferous Rugosa also are discussed. Based on relationships and similarities within the Late Carboniferous colonial Rugosa from the Brooks Range, Kuiu Island and the eastern Klamath terrane, we conclude that all three areas were geographically close enough at that time so that larvae were occasionally dispersed by oceanic currents. Distances between these areas, however, may have been so great and/or isolation so long that individual speciation occurred in all of the various locations. That hypothetical situation is reflected by a common generic, but not a specific, content of the particular faunas.ected by a common generic, but not a specific, content of the particular faunas.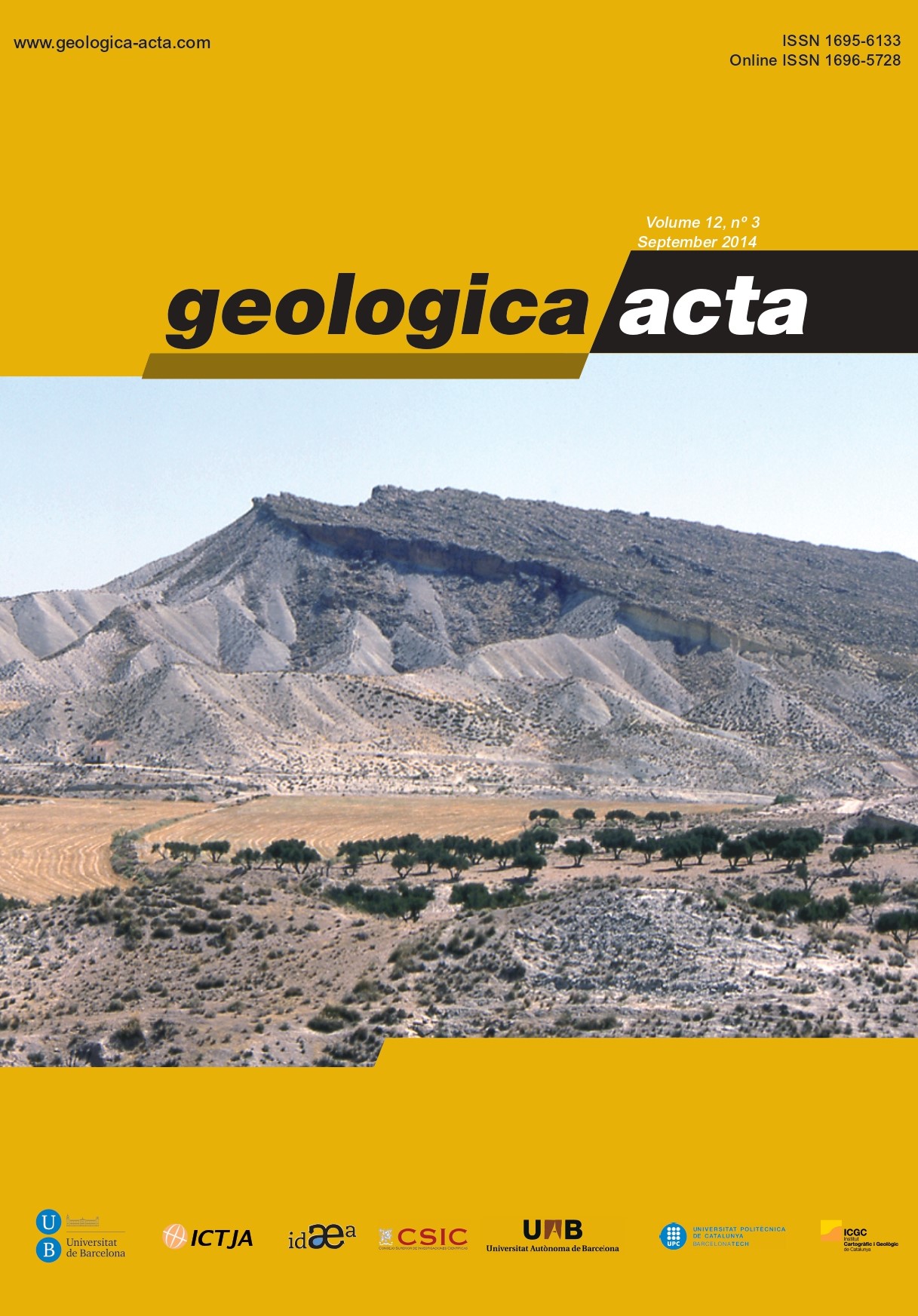 Downloads
License
Copyright
The commercial rights of the printed and online versions of Geologica Acta are property of the UB, ICTJA, IDAEA and UAB, and Geologica Acta must be cited for any partial or full reproduction.
The opinions and conclusions stated in each article are the exclusive responsability of the authors and do not necessarily coincide with those of the above mentioned institutions UB, ICTJA, IDAEA and UAB.
Author Rights
Authors retain the copyright on their papers (accepted manuscript, uncorrected proof and published paper) and are authorized to post them on their own Web page or their institutional repositories. In all cases, the complete citation and a link to the Digital Object Identifier (DOI) of the article must be included.
The authors can use excerpts or reproduce illustrations of their papers in other works without prior permission of Geologica Acta provided the source of the paper including the complete citation is fully acknowledged.
Papers are distributed under the Attribution-Share Alike Creative Commons License. This license allows others to alter, remix or build upon a paper and the resulting work may be distributed under the same or similar license to this one.