An overview of environmental forensics
Keywords:
Environmental forensics, Organic contaminants, Analytical techniques
Abstract
Environmental forensics has emerged as an important area of environmental studies over the past two decades. There are two basic aspects to any environmental investigation. The first being a conventional approach where the standard EPA (Environmental Protection Agency) methods are used to determine concentrations of selected compounds released into the environment. These methods are extremely well documented and widely used, but only provide information on specific target compounds. Whilst this information may be useful for monitoring purposes it is of little use when trying to determine the source of a spill or contaminants in the environment. If the purpose of an investigation is to determine the source of a contaminant, or point of release, then it is necessary to use a wide variety of analytical techniques and integrate all of the resulting data into one comprehensive data set. It may not always be possible to obtain a unique answer, particularly in the case of groundwater contaminants where there might only be one compound, for example MTBE or PCE. In that case if there are multiple possible sources in the area it may be difficult to narrow it down to a specific source. Furthermore fingerprinting tools that may be useful with complex mixtures may not be directly applicable to single component mixtures. The purpose of this paper will be to provide a brief overview, along with some recent examples of the type of information that is typically obtained in an environmental forensic investigation and how this information may be interpreted. It should be noted that all these examples are related to organic contaminants in the environment since that is the major area of focus at this time. Examples will involve hydrocarbons, chlorinated solvents, and MTBE and BTEX compounds. Techniques will include gas chromatography (GC), gas chromatography-mass spectrometry (GCMS), stable isotopes both bulk and gas chromatography-isotope ratio mass spectrometry (GCIRMS). There are other techniques being used but in a paper of this length we will limit ourselves to these widely used techniques and those applications mentioned above since space does not permit a comprehensive review of all of them.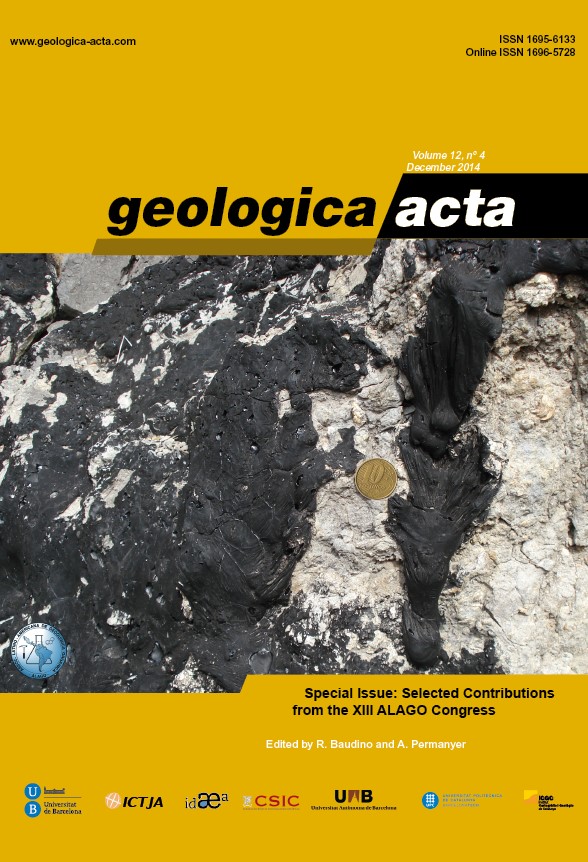 Downloads
License
Copyright
The commercial rights of the printed and online versions of Geologica Acta are property of the UB, ICTJA, IDAEA and UAB, and Geologica Acta must be cited for any partial or full reproduction.
The opinions and conclusions stated in each article are the exclusive responsability of the authors and do not necessarily coincide with those of the above mentioned institutions UB, ICTJA, IDAEA and UAB.
Author Rights
Authors retain the copyright on their papers (accepted manuscript, uncorrected proof and published paper) and are authorized to post them on their own Web page or their institutional repositories. In all cases, the complete citation and a link to the Digital Object Identifier (DOI) of the article must be included.
The authors can use excerpts or reproduce illustrations of their papers in other works without prior permission of Geologica Acta provided the source of the paper including the complete citation is fully acknowledged.
Papers are distributed under the Attribution-Share Alike Creative Commons License. This license allows others to alter, remix or build upon a paper and the resulting work may be distributed under the same or similar license to this one.