Selandian-Thanetian larger foraminifera from the lower Jafnayn Formation in the Sayq area (eastern Oman Mountains)
Keywords:
Biostratigraphy, Larger Foraminifera, Lacazinella rogeri n. sp., Ercumentina n. gen., Selandian-Thanetian, Sayq, Oman
Abstract
The larger foraminifera of the lower part of the Jafnayn Formation outcropping in the Wadi Sayq, in the Paleocene series of the eastern Oman Mountains, have been studied and described in detail. The analysis have allowed us to develop a detailed systematic description of each taxa, constraining their biostratigraphic distribution and defining the associated foraminifera assemblages. The taxonomic study has permitted us to identify each morphotype precisely and describe three new taxa, namely, Ercumentina sayqensis n. gen. n. sp. Lacazinella rogeri n. sp. and Globoreticulinidae new family. The first assemblage is characterized by the presence of Coskinon sp., Dictyoconus cf. turriculus Hottinger and Drobne, Anatoliella ozalpiensis Sirel, Ercumentina sayqensis n. gen. n. sp. Serra-Kiel and Vicedo , Lacazinella rogeri n. sp. Serra-Kiel and Vicedo, Mandanella cf. flabelliformis Rahaghi, Azzarolina daviesi (Henson), Lockhartia retiata Sander, Dictyokathina simplex Smout and Miscellanites globularis (Rahaghi). The second assemblage is constituted by the forms Pseudofallotella persica (Hottinger and Drobne), Dictyoconus cf. turriculus Hottinger and Drobne, Lacazinella rogeri n. sp. Serra-Kiel and Vicedo, Azzarolina daviesi (Henson), Keramosphera? cf. iranica Rahaghi, Lockhartia haimei (Davies), Lockhartia retiata Sander, Sakesaria trichilata Sander, Kathina delseota Smout, Elazigina harabekayisensis Sirel, Daviesina khatiyahi Smout, and Miscellanea juliettae Leppig. The first assemblage can be considered to belong to the Shallow Bentic Zone SBZ2 (early Selandian age), and the second assemblage to the SBZ3 (late Selandian-early Thanetian age).This paper shows, for the first time in the Middle East area, a correlation between the Selandian larger foraminifera and planktonic foraminifera biozones.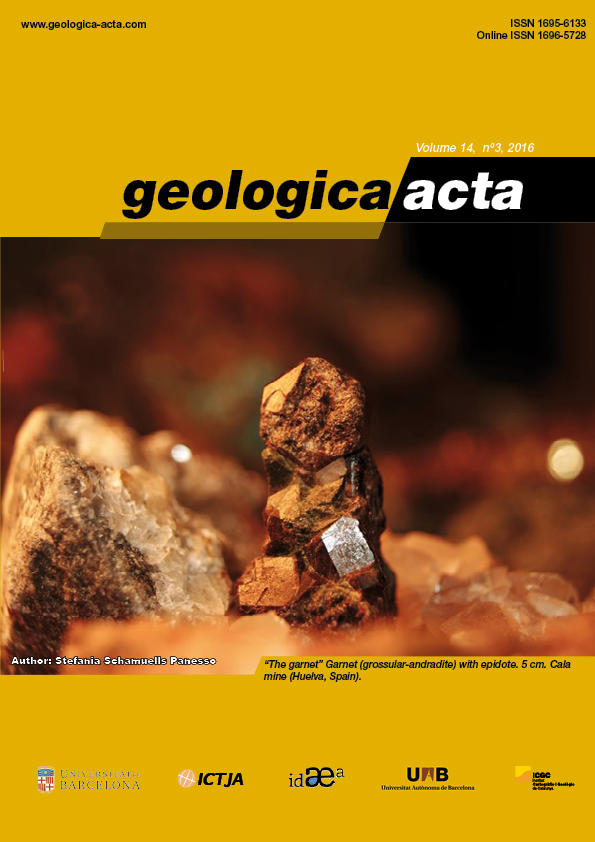 Downloads
License
Copyright (c) 2016 J. SERRA KIEL, V. VICEDO, Ph. RAZIN, C. GRÉLAUD
This work is licensed under a Creative Commons Attribution-ShareAlike 4.0 International License.
Copyright
Geologica Acta is the property of the UB, GEO3BCN, IDAEA and UAB. Geologica Acta must be cited for any partial or full reproduction. Papers are distributed under the Attribution-Share Alike Creative Commons License. This license allows anyone to reproduce and disseminate the content of the journal and even make derivative works crediting authorship and provenance and distributing possible derivative works under the same or an equivalent license.
Author Rights
Authors retain the copyright on their papers and are authorized to post them on their own web pages or institutional repositories. The copyright was retained by the journal from the year 2003 until 2009. In all cases, the complete citation and a link to the Digital Object Identifier (DOI) of the article must be included. 
The authors can use excerpts or reproduce illustrations of their papers in other works without prior permission from Geologica Acta provided the source of the paper including the complete citation is fully acknowledged.