Late Variscan, Permo-Carboniferous, Al-K plutonism in the South Portuguese Zone: El Crispinejo cordierite-bearing granite.
Keywords:
South Portuguese Zone, Iberian Pyrite Belt, El Crispinejo granite, Radiometric, U-Pb ID-TIMS geochronology.
Abstract
The El Crispinejo granite forms part of a small, but distinctive late intrusive suite of cordierite-bearing peraluminous granites in the South Portuguese Zone (SPZ). This granite has the best outcrop relationships of the suite. It cross-cuts different members of the Sierra Norte Batholith of the SPZ and the Carboniferous Volcano-Sedimentary Complex of the Iberian Pyrite Belt, producing contact metamorphism. This late pluton has a high K content which results in a contrasting geophysical response (K-Th-U) with respect to the surrounding trondhjemitic granitoids of the TTG suite of the Sierra Norte Batholith. A concordant monazite-zircon U-Pb ID-TIMS age of 300.5 +0.5/-1.5Ma demonstrates Permo-Carboniferous age for this late Variscan magmatic event. The granite is associated with a series of ore showings (F-Pb-Zn and Sn-W) which are completely different from the nearby, massive sulphide and manganese ore deposits of the Iberian Pyrite Belt, indicating the unique character of this intrusion.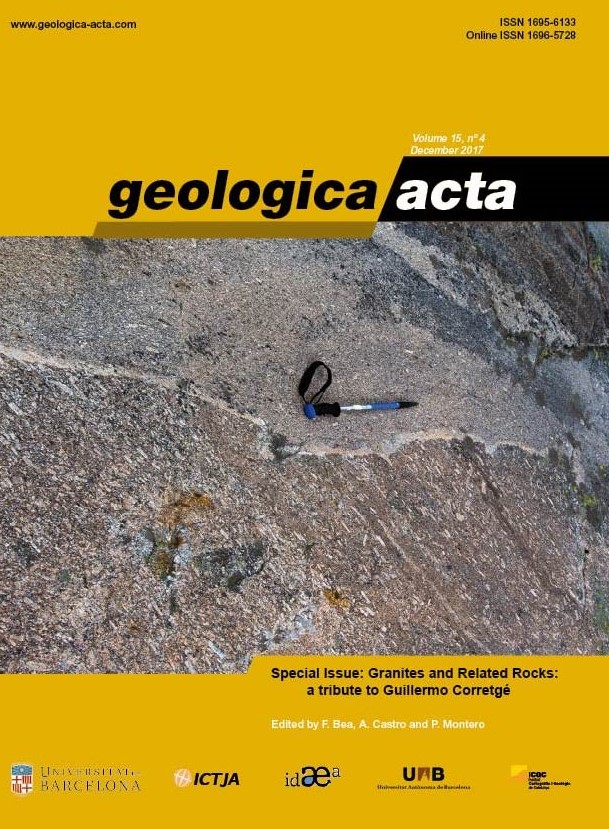 Downloads
Section
Granites and Related Rocks. A tribute to Guillermo Corretgé
License
Copyright
Geologica Acta is the property of the UB, GEO3BCN, IDAEA and UAB. Geologica Acta must be cited for any partial or full reproduction. Papers are distributed under the Attribution-Share Alike Creative Commons License. This license allows anyone to reproduce and disseminate the content of the journal and even make derivative works crediting authorship and provenance and distributing possible derivative works under the same license or an equivalent license.
Author Rights
Authors retain the copyright on their papers and are authorized to post them on their own web pages or institutional repositories. In all cases, the complete citation and a link to the Digital Object Identifier (DOI) of the article must be included.
The authors can use excerpts or reproduce illustrations of their papers in other works without prior permission from Geologica Acta provided the source of the paper including the complete citation is fully acknowledged.