Late Cambrian magmatic arc activity in peri-Gondwana: geochemical evidence from the Basal Allochthonous Units of NW Iberia
Keywords:
Convergent margin, Subduction, Magmatism, Whole rock geochemistry, NW Iberian Massif
Abstract
The North African section of the Gondwana margin was the site of voluminous, arc-related magmatism during the Late Neoproterozoic (Avalonian–Cadomian orogen). The lower (and older) metasedimentary sequence that constitutes the Basal Units of the Allochthonous Complexes of NW Iberia was deposited in that setting. In these units, sedimentation was followed by the intrusion of tonalites and granodiorites in the late Cambrian (ca. 493–489Ma). In the Late Paleozoic, the collision of Gondwana and Laurussia (Variscan orogeny) deformed and metamorphosed the whole ensemble.
New whole rock geochemical analysis performed in seven samples of metatonalites and fourteen samples of metagranodiorites are characterized by: i) slight enrichment in incompatible elements (Rb, Ba, Th, U), ii) negative anomalies in Nb, Ta, P, and Ti, and iii) negative anomalies in Eu. These chemical features are in agreement with a subduction-related setting for the genesis of both types of magma, which is also supported by chemical discrimination using tectonic setting diagrams. Positive anomalies of Pb suggest a crustal component. The new geochemical data reveal that the convergent orogen that ruled the paleogeography of the Gondwana periphery during the Neoproterozoic (Cadomian orogen) remained active beyond the Neoproterozoic-Cambrian transition, up to at least late Cambrian times.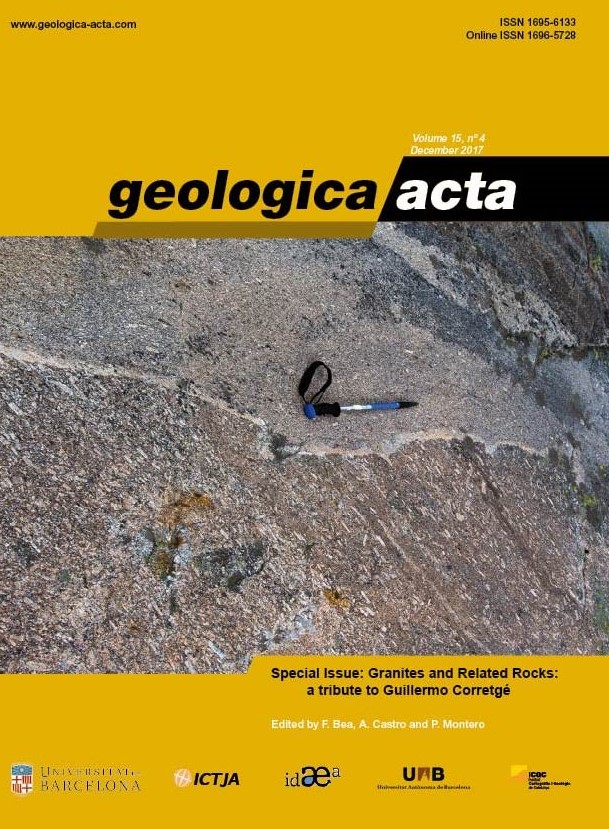 Downloads
Section
Granites and Related Rocks. A tribute to Guillermo Corretgé
License
Copyright
The commercial rights of the printed and online versions of Geologica Acta are property of the UB, ICTJA, IDAEA and UAB, and Geologica Acta must be cited for any partial or full reproduction.
The opinions and conclusions stated in each article are the exclusive responsability of the authors and do not necessarily coincide with those of the above mentioned institutions UB, ICTJA, IDAEA and UAB.
Author Rights
Authors retain the copyright on their papers (accepted manuscript, uncorrected proof and published paper) and are authorized to post them on their own Web page or their institutional repositories. In all cases, the complete citation and a link to the Digital Object Identifier (DOI) of the article must be included.
The authors can use excerpts or reproduce illustrations of their papers in other works without prior permission of Geologica Acta provided the source of the paper including the complete citation is fully acknowledged.
Papers are distributed under the Attribution-Share Alike Creative Commons License. This license allows others to alter, remix or build upon a paper and the resulting work may be distributed under the same or similar license to this one.