Spinels of Variscan olivine hornblendites related to the Montnegre granitoids revisited (NE Spain): petrogenetic evidence of mafic magma mixing
Keywords:
Catalan Coastal Ranges, Olivine hornblendites, Spinel compositions, Mantle-derived melts.
Abstract
Olivine hornblendites (cortlandtites) form part of the Montnegre mafic complex related to late-Variscan I-type granitoids in the Catalan Coastal Ranges. Two generations of spinel are present in these hornblendites: Spl1 forms euhedral crystals included in both olivine and Spl2. Spl2 forms euhedral to anhedral crystals associated with phlogopite and fibrous colourless amphibole forming pseudomorphs after olivine. Compositions of Spl1 are picotite-Al chromite (Fe#: 77.78-66.60; Cr#: 30.12-52.22; Fe3+/R3+: 6.99-21.89; 0.10< TiO2%< 0.62). Compositions of Spl2 are pleonaste (Fe#: 37.86-52.12; Cr#: 1.00-15.45; Fe3+/R3+: 0.31-5.21; TiO2% <0.10%). The two types of spinel follow a CrAl trend, mainly due to the substitution (Fe2+)-1Cr-1= MgAl, which is interpreted as the result of mixing between two different mantle-derived melts. The compositions of early Spl1 crystals included in olivine are characteristic of Al-rich basalts. More aluminous Spl2 would result from reaction of olivine with a less evolved, Al and K-rich mantle-derived melt after new refilling of the magma chamber or channel. As a whole, spinels from similar examples of Variscan olivine hronblendites also follow a CrAl trend with high Fe# and starting at higher Cr# than other trends of this type. Cr# heterogeneity in the early spinels from these Variscan hornblendites would be inherited from the variable Al content of the mafic melts involved in their genesis.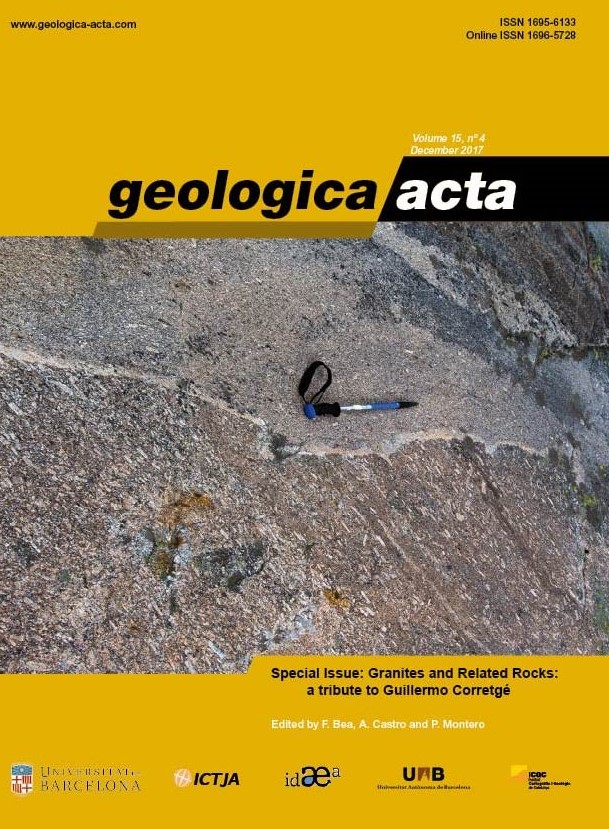 Downloads
Section
Granites and Related Rocks. A tribute to Guillermo Corretgé
License
Copyright
The commercial rights of the printed and online versions of Geologica Acta are property of the UB, ICTJA, IDAEA and UAB, and Geologica Acta must be cited for any partial or full reproduction.
The opinions and conclusions stated in each article are the exclusive responsability of the authors and do not necessarily coincide with those of the above mentioned institutions UB, ICTJA, IDAEA and UAB.
Author Rights
Authors retain the copyright on their papers (accepted manuscript, uncorrected proof and published paper) and are authorized to post them on their own Web page or their institutional repositories. In all cases, the complete citation and a link to the Digital Object Identifier (DOI) of the article must be included.
The authors can use excerpts or reproduce illustrations of their papers in other works without prior permission of Geologica Acta provided the source of the paper including the complete citation is fully acknowledged.
Papers are distributed under the Attribution-Share Alike Creative Commons License. This license allows others to alter, remix or build upon a paper and the resulting work may be distributed under the same or similar license to this one.