Multiphase dolomitization in the Jutana Formation (Cambrian), Salt Range (Pakistan): Evidences from field observations, microscopic studies and isotopic analysis
Keywords:
Cambrian dolomite, Salt Range, Diagenetic phases, O/C isotopes, Mg-isotopes.
Abstract
Excellent dolomite exposures are observed in the eastern Salt Range (Pakistan), where the Cambrian Jutana Formation consists of two distinct units (i.e. oolitic – pisolitic unit and massive dolomite unit). Field observations revealed that the lower, oolitic-pisolitic unit mostly comprises medium to thick bedded, interlayered brown yellowish dolostone containing ooids/pisoids and faunal assemblages, and grey whitish sandstone with distinct depositional sedimentary features (i.e. trough-, herringbone- and hhummocky crossbedding). The upper massive dolostone unit consists of thick bedded to massive dolostone. These two units are separated by shale. Petrographic studies identified three dolomite types, which include: fine crystalline dolomite (Dol. I), medium-coarse crystalline dolomite (Dol. II) and fracture associated, coarse crystalline dolomite (Dol. III). Stable isotope studies indicate less depleted δ18O values for Dol. I (-6.44 to -3.76‰V-PDB), slightly depleted δ18O values for Dol. II (-7.73 to -5.24‰V-PDB) and more depleted δ18O values for Dol. III (-7.29 to -7.20‰V-PDB). The δ13C values of the three dolomite phases are well within the range of Cambrian sea-water signatures. Furthermore, δ26Mg-δ25Mg signatures (Dol. I; δ26Mg=-1.19 to -1.67, δ25Mg=-0.61 to -0.86 and Dol. II; δ26Mg=-1.34 to -1.59, δ25Mg=-0.70 to -0.83) indicate three phases of dolomitization in different diagenetic settings. First, an initial stage of dolomitization during the early Cambrian resulted from altered marine, Mg-rich fluids associated with the mixing zone mechanism. Second, a late stage of dolomitization was associated with burial during late Permian. A third dolomitization phase was related to post-Eocene times.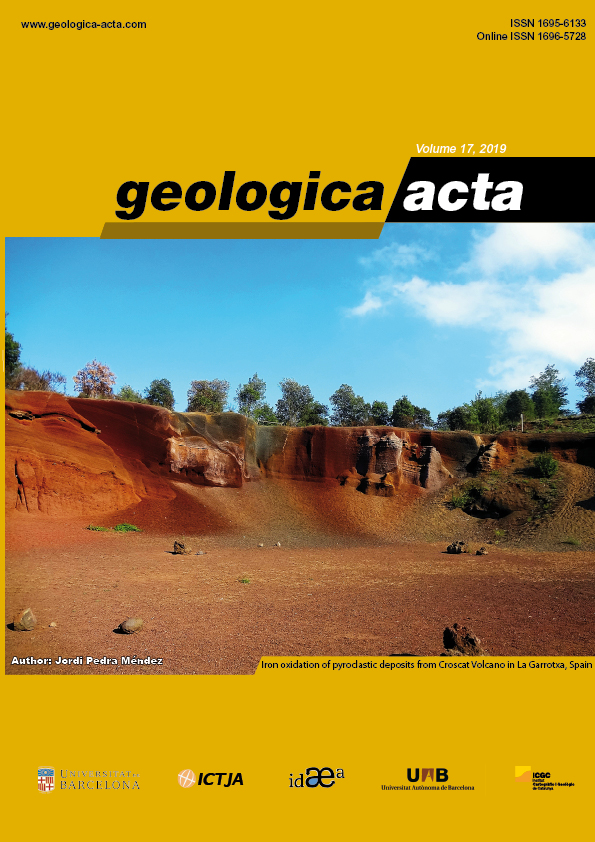 Downloads
License
Copyright
The commercial rights of the printed and online versions of Geologica Acta are property of the UB, ICTJA, IDAEA and UAB, and Geologica Acta must be cited for any partial or full reproduction.
The opinions and conclusions stated in each article are the exclusive responsability of the authors and do not necessarily coincide with those of the above mentioned institutions UB, ICTJA, IDAEA and UAB.
Author Rights
Authors retain the copyright on their papers (accepted manuscript, uncorrected proof and published paper) and are authorized to post them on their own Web page or their institutional repositories. In all cases, the complete citation and a link to the Digital Object Identifier (DOI) of the article must be included.
The authors can use excerpts or reproduce illustrations of their papers in other works without prior permission of Geologica Acta provided the source of the paper including the complete citation is fully acknowledged.
Papers are distributed under the Attribution-Share Alike Creative Commons License. This license allows others to alter, remix or build upon a paper and the resulting work may be distributed under the same or similar license to this one.