Tourmaline records the hydrothermal events related to Zn-Pb mineralization around the Murguía diapir (Basque Cantabrian Basin, N Spain)
Keywords:
Tourmaline, Salt diapir, Zn-Pb deposits, Basque Cantabrian Basin
Abstract
The chemical composition of tourmaline has been used as a host environment register as well as a potential exploration tool for mineral deposits. In this study, the textural and chemical composition of tourmalines associated with Zn-Pb mineralizations around the Murguía diapir (Basque Cantabrian Basin, N Spain) are examined to verify if they record the mineralizing events in the area. Petrographically, tourmalines have been differentiated between inherited and authigenic. Colorless authigenic tourmalines are present as halos partially around green and pleochroic detrital grains or as individual crystals. Inherited and authigenic tourmalines are also chemically distinct. Authigenic tourmalines show different X-site occupancies, a Mg/(Mg+Fe) ratio above 0.77, and are aluminum rich and plot to the right of the povondraite-oxidravite join, above the schorl-dravite join. Inherited tourmalines plot within the alkaline (Na+K) group field, and have a Mg/(Mg+Fe) ratio below 0.77. These data suggest that authigenic tourmalines grew under reducing conditions, compatible with the hydrothermal event responsible for the ore deposition and caprock formation during the diapir ascent.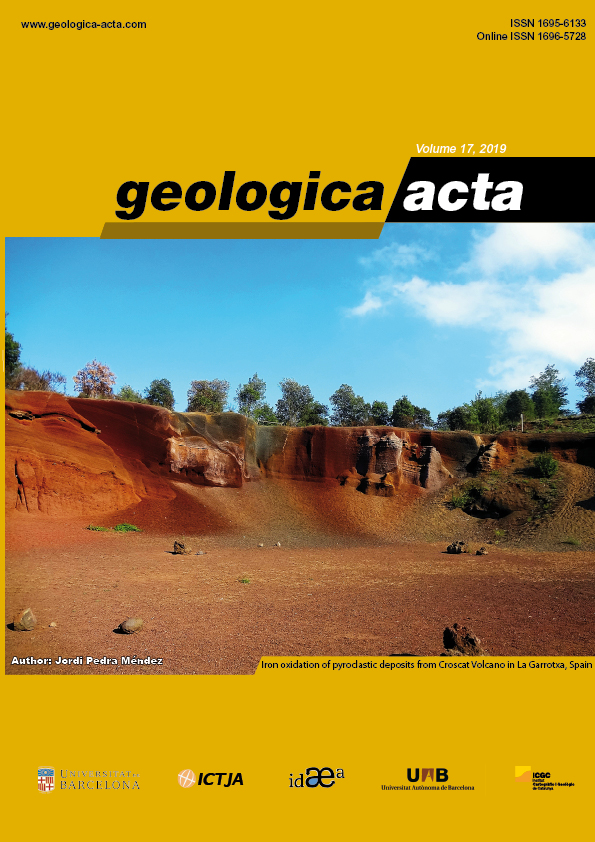 Downloads
License
Copyright
Geologica Acta is the property of the UB, GEO3BCN, IDAEA and UAB. Geologica Acta must be cited for any partial or full reproduction. Papers are distributed under the Attribution-Share Alike Creative Commons License. This license allows anyone to reproduce and disseminate the content of the journal and even make derivative works crediting authorship and provenance and distributing possible derivative works under the same license or an equivalent license.
Author Rights
Authors retain the copyright on their papers and are authorized to post them on their own web pages or institutional repositories. In all cases, the complete citation and a link to the Digital Object Identifier (DOI) of the article must be included.
The authors can use excerpts or reproduce illustrations of their papers in other works without prior permission from Geologica Acta provided the source of the paper including the complete citation is fully acknowledged.