Geology of the Cerro Quema Au-Cu deposit (Azuero Peninsula, Panama)
Keywords:
Panama, Cerro Quema, Au-Cu High sulfidation epithermal deposit, Fore-arc basin, Arc-magmatism
Abstract
The Cerro Quema district, located on the Azuero Peninsula, Panama, is part of a large regional hydrothermal system controlled by regional faults striking broadly E-W, developed within the Río Quema Formation. This formation is composed of volcanic, sedimentary and volcano-sedimentary rocks indicating a submarine depositional environment, corresponding to the fore-arc basin of a Cretaceous–Paleogene volcanic arc. The structures observed in the area and their tectono-stratigraphic relationship with the surrounding formations suggest a compressive and/or transpressive tectonic regime, at least during Late Cretaceous–Oligocene times. The igneous rocks of the Río Quema Formation plot within the calc-alkaline field with trace and rare earth element (REE) patterns of volcanic arc affinity. This volcanic arc developed on the Caribbean large igneous province during subduction of the Farallon Plate. Mineralization consists of disseminations of pyrite and enargite as well as a stockwork of pyrite and barite with minor sphalerite, galena and chalcopyrite, hosted by a subaqueous dacitic lava dome of the Río Quema Formation. Gold is present as submicroscopic grains and associated with pyrite as invisible gold. A hydrothermal alteration pattern with a core of advanced argillic alteration (vuggy silica with alunite, dickite, pyrite and enargite) and an outer zone of argillic alteration (kaolinite, smectite and illite) has been observed. Supergene oxidation overprinted the hydrothermal alteration resulting in a thick cap of residual silica and iron oxides. The ore minerals, the alteration pattern and the tectono-volcanic environment of Cerro Quema are consistent with a high sulfidation epithermal system developed in the Azuero peninsula during pre-Oligocene times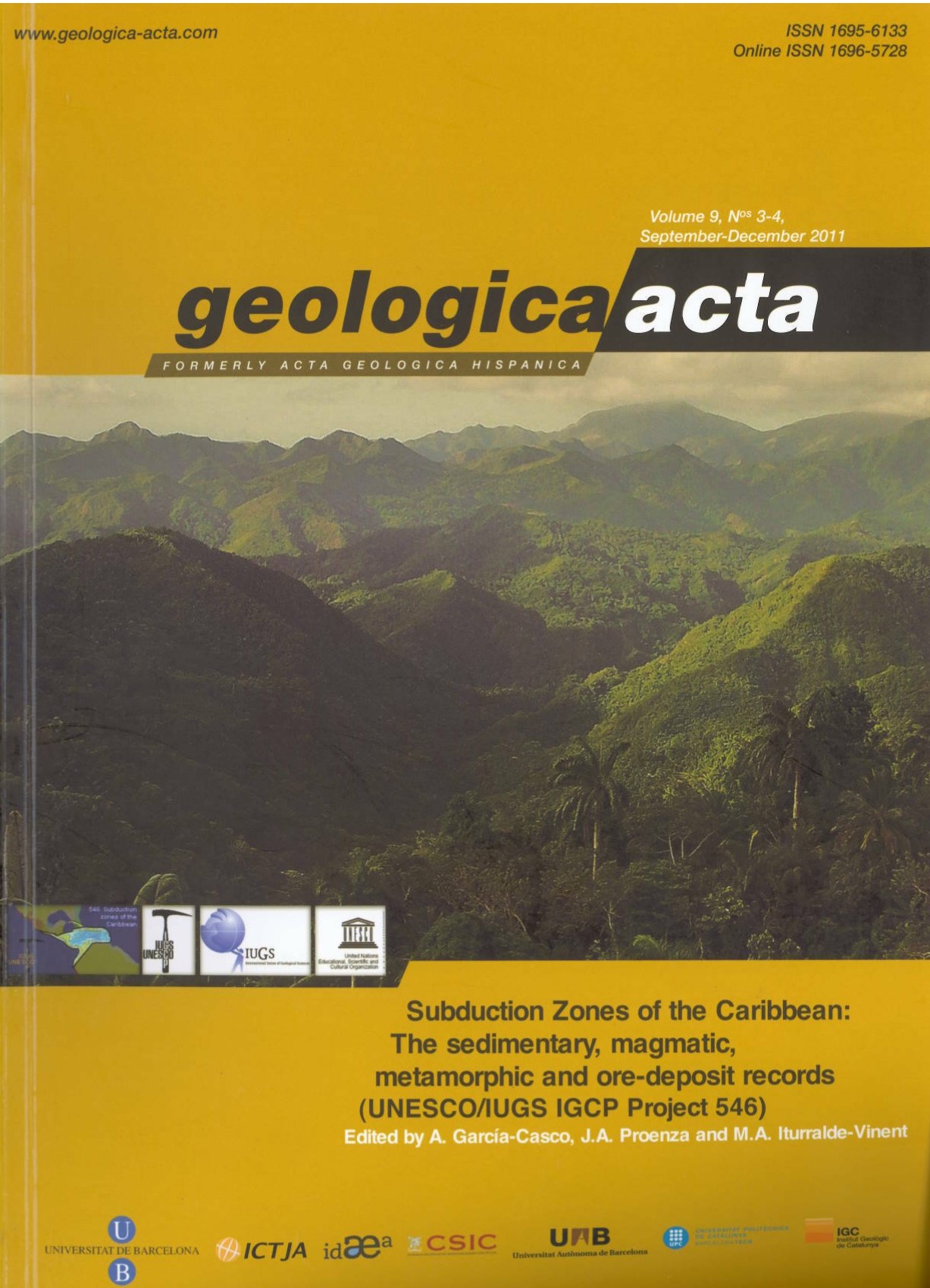 Downloads
License
Copyright
The commercial rights of the printed and online versions of Geologica Acta are property of the UB, ICTJA, IDAEA and UAB, and Geologica Acta must be cited for any partial or full reproduction.
The opinions and conclusions stated in each article are the exclusive responsability of the authors and do not necessarily coincide with those of the above mentioned institutions UB, ICTJA, IDAEA and UAB.
Author Rights
Authors retain the copyright on their papers (accepted manuscript, uncorrected proof and published paper) and are authorized to post them on their own Web page or their institutional repositories. In all cases, the complete citation and a link to the Digital Object Identifier (DOI) of the article must be included.
The authors can use excerpts or reproduce illustrations of their papers in other works without prior permission of Geologica Acta provided the source of the paper including the complete citation is fully acknowledged.
Papers are distributed under the Attribution-Share Alike Creative Commons License. This license allows others to alter, remix or build upon a paper and the resulting work may be distributed under the same or similar license to this one.