Stratigraphy and sedimentology of distal-alluvial and lacustrine deposits of the western-central Ebro Basin (NE Iberia) reflecting the onset of the middle Miocene Climatic Optimum
Keywords:
Miocene stratigraphy, Palustrine-lacustrine facies model, Ebro Basin, Middle Miocene Climatic Optimum.
Abstract
Stratigraphic and sedimentological study of distal alluvial and lacustrine deposits in the Plana de la Negra-Sancho Abarca area (western-central Ebro Basin, NE Iberia) within the early and middle Miocene allows five main lithofacies to be characterized and mapped within two tectosedimentary units, construction of a sedimentary facies model and discussion on allogenic controls on sedimentation. In this area, the boundary between tectosedimentary units T5 and T6 appears to be conformable and is marked by the change from dominant clastics to carbonates. Correlation of the studied outcrops with nearby sections that already had magnetostratigraphic and biostratigraphic data allows the studied succession to be dated from C5Dr to C5Cn (Burdigalian-Langhian), placing the boundary T5/T6 at ca. 16.1-16.05Ma. Seven vertical facies sequences document deposition of distal alluvial clastics and palustrine and lacustrine carbonates. Sandstones and mudstones represent low-sinuosity channels and lateral and terminal splays by unconfined flows runnig across the alluvial plain, associated to the Pyrenean-derived Luna fluvial system. The carbonates contain charophytes, ostracods, bivalves and gastropods, indicating deposition in 2-4m deep lakes. Laminated carbonate facies record reworking of shore carbonates and the influx fine-siliciclastic sediment offshore. Abundant bioturbation and desiccation features indicate episodic submergence and subaerial exposure. Four main episodes of alluvial and associated palustrine/lacustrine facies belt shifts are identified. Alluvial deposition in the studied T5 unit is related to low lake level conditions, rather than to a Pyrenean uplift. The maximum extent of the freshwater carbonates occur at the base of unit T6. This is consistent with conditions of increasing humidity of the Middle Miocene Climatic Optimum.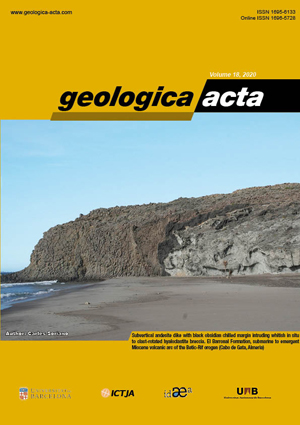 Downloads
License
Copyright
Geologica Acta is the property of the UB, GEO3BCN, IDAEA and UAB. Geologica Acta must be cited for any partial or full reproduction. Papers are distributed under the Attribution-Share Alike Creative Commons License. This license allows anyone to reproduce and disseminate the content of the journal and even make derivative works crediting authorship and provenance and distributing possible derivative works under the same license or an equivalent license.
Author Rights
Authors retain the copyright on their papers and are authorized to post them on their own web pages or institutional repositories. In all cases, the complete citation and a link to the Digital Object Identifier (DOI) of the article must be included.
The authors can use excerpts or reproduce illustrations of their papers in other works without prior permission from Geologica Acta provided the source of the paper including the complete citation is fully acknowledged.