Craft guild, family, and economic change. Clothiers and weavers in Igualada, 1695-1765
Abstract
This essay focuses upon the changes that undermined the customary organization of work in a small Catalan textile manufacturing centre during a period of remarkable population and industrial growth. The different paths of change followed by the craft guilds in the wool textile industry are described by crossing data from fiscal sources, parish registers and guild records. The conclusions emphasize the variety of the forces that eventually led to simplified entrepreneurial forms and to larger production units.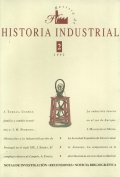 Downloads
License
El/la autor/a cede los derechos al/la editor/a. Creative Commons
El/la autor/a que publica en esta revista está de acuerdo con los términos siguientes:
El/la autor/a cede en exclusiva todos los derechos de propiedad intelectual al/la editor/a para todo el mundo y toda la duración de los derechos de propiedad intelectual vigentes aplicables.
El/la editor/a difundirá los textos con la licencia de reconocimiento de Creative Commons que permite compartir la obra con terceros, siempre que éstos reconozcan su autoría, su publicación inicial en esta revista y las condiciones de la licencia.