The glass-making complex of Campóo (Cantabria), 1845-1928. A contribution to the history of the glass-making industry in Spain
Abstract
The aim of this research is the study of the rise and the eventual collapse of the modest glassworks of Campoo (Cantabria) that in the last decades of the 19th century became the most important centre in the country for the production of plate glass. A definitely microhistorical approach-throws new light on some general problems concerning the development of this industrial sector in Spain: the impact of transportation costs and tariff policies in shaping domestic markets, the weight of labour in the overall costs, and, at the end of the period, the fast and intense process of concentration and internationalization in this branch of industry.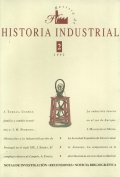 Downloads
License
El/la autor/a cede los derechos al/la editor/a. Creative Commons
El/la autor/a que publica en esta revista está de acuerdo con los términos siguientes:
El/la autor/a cede en exclusiva todos los derechos de propiedad intelectual al/la editor/a para todo el mundo y toda la duración de los derechos de propiedad intelectual vigentes aplicables.
El/la editor/a difundirá los textos con la licencia de reconocimiento de Creative Commons que permite compartir la obra con terceros, siempre que éstos reconozcan su autoría, su publicación inicial en esta revista y las condiciones de la licencia.