The pioneers of the second industrial revolution in Spain. The Sociedad Española de Electricidad (1881 -1894)
Abstract
This article examines the first commercial applications of electricity and telephone since1874 in Spain. It focuses on the first industrial enterprise devoted to the manufacture of electrical material and to the distribution of electricity, the Sociedad Española de Electricidad of Barcelona (1881-1894) and its affiliates in Madrid and Valencia. It exposes the enterprise's proyect, the technological choices, financing and development as well as the obstacles to its definitive consolidation.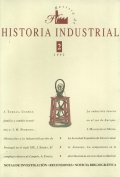 Downloads
License
El/la autor/a cede los derechos al/la editor/a. Creative Commons
El/la autor/a que publica en esta revista está de acuerdo con los términos siguientes:
El/la autor/a cede en exclusiva todos los derechos de propiedad intelectual al/la editor/a para todo el mundo y toda la duración de los derechos de propiedad intelectual vigentes aplicables.
El/la editor/a difundirá los textos con la licencia de reconocimiento de Creative Commons que permite compartir la obra con terceros, siempre que éstos reconozcan su autoría, su publicación inicial en esta revista y las condiciones de la licencia.