Competition in the electricity distribution market of Madrid, 1890-1913
Abstract
This article examines the pricing strategies used by electric utilities in the Madrilanean electricity distribution market. The legal framework, which did not allow the granting of a concession for monopoly in the electric industry, and the potential market for electricity that Madrid had, favoured competition amongst companies. During the period analyzed, the market structure changed from duopoly to oligopoly, with four big distributors and several small ones, and finally, after a price war, to a "stable duopoly". Thanks to this peculiar development, Madrid had a higher degree of electrification at the eve of WWI than Chicago, Berlin, Paris or Rome.
Downloads
Download data is not yet available.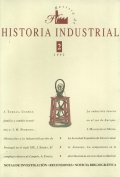 Downloads
License
El/la autor/a cede los derechos al/la editor/a. Creative Commons
El/la autor/a que publica en esta revista está de acuerdo con los términos siguientes:
El/la autor/a cede en exclusiva todos los derechos de propiedad intelectual al/la editor/a para todo el mundo y toda la duración de los derechos de propiedad intelectual vigentes aplicables.
El/la editor/a difundirá los textos con la licencia de reconocimiento de Creative Commons que permite compartir la obra con terceros, siempre que éstos reconozcan su autoría, su publicación inicial en esta revista y las condiciones de la licencia.