From craft tradition to speciulized industry: Valencia footwear production, 1850-1930
Abstract
Valencia, a region in the Southeastern part of Spain, concentrates the two thirds of Spanish footwear industry, a sector in wich Spain stands out as producer and also as exporter. This paper analyses the configuration process of Valencia footwear industry between 1850and 1930, deeping in its origins, the technological evolution and growth patterns experimented by main producers zones.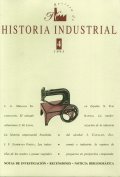 Downloads
License
El/la autor/a cede los derechos al/la editor/a. Creative Commons
El/la autor/a que publica en esta revista está de acuerdo con los términos siguientes:
El/la autor/a cede en exclusiva todos los derechos de propiedad intelectual al/la editor/a para todo el mundo y toda la duración de los derechos de propiedad intelectual vigentes aplicables.
El/la editor/a difundirá los textos con la licencia de reconocimiento de Creative Commons que permite compartir la obra con terceros, siempre que éstos reconozcan su autoría, su publicación inicial en esta revista y las condiciones de la licencia.