Brazilian Business History, c. 1850-1945: recent trends in the literature
Abstract
The bibliography on Brazilian business history is, arguably, much richer than for other Latin American countries. Although of relatively recent origin, it is growing rapidly and contains a number of works of very high quality. This article begins by schooling the principal currents in the economic historiography that have influenced research on the business history of Brazil. The main directions in that literature are then analyzed, stressing sectoral surveys about agriculture, manufacturing (mainly cotton textiles) and transport. Issues such as entrepreneurial formation, labour and relations between business and government are also examined.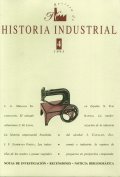 Downloads
License
El/la autor/a cede los derechos al/la editor/a. Creative Commons
El/la autor/a que publica en esta revista está de acuerdo con los términos siguientes:
El/la autor/a cede en exclusiva todos los derechos de propiedad intelectual al/la editor/a para todo el mundo y toda la duración de los derechos de propiedad intelectual vigentes aplicables.
El/la editor/a difundirá los textos con la licencia de reconocimiento de Creative Commons que permite compartir la obra con terceros, siempre que éstos reconozcan su autoría, su publicación inicial en esta revista y las condiciones de la licencia.