The olive-oi1 and vegetable-oi1 industries in Spain: a limited development, 1850-1 950
Abstract
This article shows the limited development of both olive-oi1 and vegetable-oi1 industries in Spain, partly due to protectionism. To set up the hypothesis the author points out, first of all, both the production growth and the qualitative changes in the world markets for both sectors. Second, a comparation of vegetable-oil politics in the main producer countries (France, Italy and Spain) is made as a big production growth takes place. Last, the origins and development of the major spanish-oil industries is analyzed.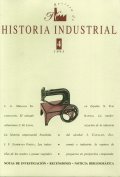 Downloads
License
El/la autor/a cede los derechos al/la editor/a. Creative Commons
El/la autor/a que publica en esta revista está de acuerdo con los términos siguientes:
El/la autor/a cede en exclusiva todos los derechos de propiedad intelectual al/la editor/a para todo el mundo y toda la duración de los derechos de propiedad intelectual vigentes aplicables.
El/la editor/a difundirá los textos con la licencia de reconocimiento de Creative Commons que permite compartir la obra con terceros, siempre que éstos reconozcan su autoría, su publicación inicial en esta revista y las condiciones de la licencia.