The modernization of the alcohol industry in Tarragona, Ciudad Real, Navarra and Granada (1888-1953)
Abstract
This paper analyses the process of modernization of the alcohol industry, one of the most traditional and widespread sectors of Spanish industry, between 1888 and 1953. The research reported in this work bases on administrative sources and assesses the effects of technological and commercial modernization on the distilleries of four provinces, each one of them representing one subsector of the alcohol industry. The main conclusion of this work is that modernization gave rise to a dualization within the distilling industry and to a diversity of problems and interests for which public regulation -changing though standardizing- became the only solution.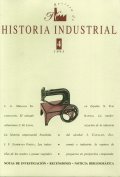 Downloads
License
El/la autor/a cede los derechos al/la editor/a. Creative Commons
El/la autor/a que publica en esta revista está de acuerdo con los términos siguientes:
El/la autor/a cede en exclusiva todos los derechos de propiedad intelectual al/la editor/a para todo el mundo y toda la duración de los derechos de propiedad intelectual vigentes aplicables.
El/la editor/a difundirá los textos con la licencia de reconocimiento de Creative Commons que permite compartir la obra con terceros, siempre que éstos reconozcan su autoría, su publicación inicial en esta revista y las condiciones de la licencia.