Economy and industry: the postwar rupture in comparative perspective
Abstract
This article analyzes the performance of the Spanish economy during the reconstruction period (1939-58) within a long-term comparative framework. Whereas the nineteenth-century concluded with the failure of the industrial revolution in Spain, a new drive in the development process took place during the three decades previous to 1936. The new spurt towards industrialization was aborted by the pattern of reconstruction followed after the Civil War. The Francoist policy-choices were strongly connected to the German and Italian totalitarian attempts of centralizing the economic system, disciplining labour and preparing war. They radically altered the pre-1936 structure of economic incentives, leading to the most unsuccessful path of recovery in Western Europe. Moreover, the speculative tendencies within the Spanish capitalism were strengthened, meanwhile long-term innovation in the productive processes was discouraged.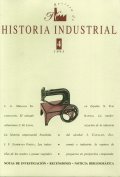 Downloads
License
El/la autor/a cede los derechos al/la editor/a. Creative Commons
El/la autor/a que publica en esta revista está de acuerdo con los términos siguientes:
El/la autor/a cede en exclusiva todos los derechos de propiedad intelectual al/la editor/a para todo el mundo y toda la duración de los derechos de propiedad intelectual vigentes aplicables.
El/la editor/a difundirá los textos con la licencia de reconocimiento de Creative Commons que permite compartir la obra con terceros, siempre que éstos reconozcan su autoría, su publicación inicial en esta revista y las condiciones de la licencia.