The industrial production index of Catalonia. A new estimate (1817- 1935)
Abstract
This article examines the estimates of industrial output in Catalonia and presents an alternative series of annual data for the period 181 7-1935. In addition, new measurements of productivity trends of labor and energy are presented. It suggests that after acceleration of economic growth in the years 1840-1860, the industrial production increases were only moderate though sustained, remaining at approximately 3.0 % per year. No major progress was obtained because of the scarcity of energy and other natural resources, and the poverty of the Spanish market.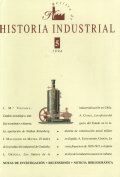 Downloads
License
El/la autor/a cede los derechos al/la editor/a. Creative Commons
El/la autor/a que publica en esta revista está de acuerdo con los términos siguientes:
El/la autor/a cede en exclusiva todos los derechos de propiedad intelectual al/la editor/a para todo el mundo y toda la duración de los derechos de propiedad intelectual vigentes aplicables.
El/la editor/a difundirá los textos con la licencia de reconocimiento de Creative Commons que permite compartir la obra con terceros, siempre que éstos reconozcan su autoría, su publicación inicial en esta revista y las condiciones de la licencia.