"The effects of State expenditure in Spanish naval construction industry, 1887-1936"
Abstract
High costs, technical inadequacy and lack of raw materials were the main features of Spanish shipbuilding industry at the end of the nineteenth century. To improve this situation, Spanish governments implemented several squadron Acts in order to build new ships for the Navy. In this paper we discuss the costs of that policy and its effects on the industry. Few resources were used and their consequences on the industrial demand were lower than 5per cent. Another effects, like technological transfers and labor apprenticeship, are also discussed. Finally, we analyze the opportunity cost of these public expenditures.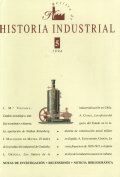 Downloads
License
El/la autor/a cede los derechos al/la editor/a. Creative Commons
El/la autor/a que publica en esta revista está de acuerdo con los términos siguientes:
El/la autor/a cede en exclusiva todos los derechos de propiedad intelectual al/la editor/a para todo el mundo y toda la duración de los derechos de propiedad intelectual vigentes aplicables.
El/la editor/a difundirá los textos con la licencia de reconocimiento de Creative Commons que permite compartir la obra con terceros, siempre que éstos reconozcan su autoría, su publicación inicial en esta revista y las condiciones de la licencia.