Spanish Electricity-Supply Enterprises (1878-1953)
Abstract
Spanish electricity supply side growth developed under a very regular environment. Small firms with productive and distributive activities and a high selfconsumption rate were early established in towns and villages, growing up later on and merging rival productive units resulting some times in un commercial and distributive structure with some degree of monopoly. Meanwhile, more specialized firms were established to take advantage of small hydraulic resources and at the same time those previously established undertook a vertical integration process. Althought electrical sector appeared at early stages in Spanish industrial and transportation demand. At the beginning of Spanish Civil War Spanish electrical sector was in an excess of supply, and barely integrated. This situation changed dramatically in the fourties due to the lack of investment and strict state intervention policies newly implemented.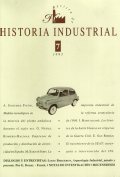 Downloads
License
El/la autor/a cede los derechos al/la editor/a. Creative Commons
El/la autor/a que publica en esta revista está de acuerdo con los términos siguientes:
El/la autor/a cede en exclusiva todos los derechos de propiedad intelectual al/la editor/a para todo el mundo y toda la duración de los derechos de propiedad intelectual vigentes aplicables.
El/la editor/a difundirá los textos con la licencia de reconocimiento de Creative Commons que permite compartir la obra con terceros, siempre que éstos reconozcan su autoría, su publicación inicial en esta revista y las condiciones de la licencia.