Textile Industry and History of Technology: Calico-printing in the Early Nineteenth Century Europe
Abstract
The exotic coloured cottons from the East (printed calicoes), which were spread out in Western Europe during the 18th century, can be analized as technical objects from the perspective of the history of technology. The study of some early 19th century samples (raw materials, chemical and mechanical operations, the various experts involved) are in the basis of the recent historiographical definition of 'technical system'.
Through the printed calicoes, this paper describes that technical system of colouring textiles with natural dyestuffs, which would be transformed in the second half of the 19th century with the introduction of synthetic dyes and fibres.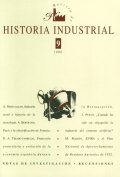 Downloads
License
El/la autor/a cede los derechos al/la editor/a. Creative Commons
El/la autor/a que publica en esta revista está de acuerdo con los términos siguientes:
El/la autor/a cede en exclusiva todos los derechos de propiedad intelectual al/la editor/a para todo el mundo y toda la duración de los derechos de propiedad intelectual vigentes aplicables.
El/la editor/a difundirá los textos con la licencia de reconocimiento de Creative Commons que permite compartir la obra con terceros, siempre que éstos reconozcan su autoría, su publicación inicial en esta revista y las condiciones de la licencia.