Tariff protection and Spanish economic behaviour during the Ristoration: an interpretative essay
Abstract
In this article we analyse the impact of the tariff policy of the Spanish Ristoration on some of her main macro-economic variables. We find out the existence of clearly differentiated effects coming from the three tariff structures implemented along these years. In this sense, we point out that, during the 90's, tariff protection impact was very costly for Spanish economic growth. Nevertheless, protection carried out from 1900 on returned Spanish economic development path next to that followed during the period 1870-1891.
Downloads
Download data is not yet available.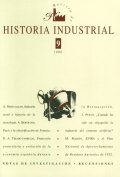 Downloads
License
El/la autor/a cede los derechos al/la editor/a. Creative Commons
El/la autor/a que publica en esta revista está de acuerdo con los términos siguientes:
El/la autor/a cede en exclusiva todos los derechos de propiedad intelectual al/la editor/a para todo el mundo y toda la duración de los derechos de propiedad intelectual vigentes aplicables.
El/la editor/a difundirá los textos con la licencia de reconocimiento de Creative Commons que permite compartir la obra con terceros, siempre que éstos reconozcan su autoría, su publicación inicial en esta revista y las condiciones de la licencia.