When was cement industry an oligopoly? The Spanish case, 1908-1992
Abstract
This essay analys market power in the cement industry during the 20th century. Market power is measured by means of a Hirschman-Herfindahl index series that shows that economic concentration decreased continuously between 1920 and 1970. This outcome put in question the effectiveness of the behaviour of the established firms and public regulation to control entry into the industry.
Downloads
Download data is not yet available.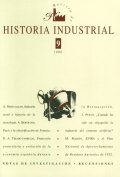 Downloads
License
El/la autor/a cede los derechos al/la editor/a. Creative Commons
El/la autor/a que publica en esta revista está de acuerdo con los términos siguientes:
El/la autor/a cede en exclusiva todos los derechos de propiedad intelectual al/la editor/a para todo el mundo y toda la duración de los derechos de propiedad intelectual vigentes aplicables.
El/la editor/a difundirá los textos con la licencia de reconocimiento de Creative Commons que permite compartir la obra con terceros, siempre que éstos reconozcan su autoría, su publicación inicial en esta revista y las condiciones de la licencia.