Pessimists and Optimists Facing the Mining «Boom»
Abstract
This paper has three parts. In the first part of it I explain the reasons for the Spanish mining sector «boom» between 1870 and the First World War. In the second part of the paper I summarize the debate that the «optimistic» and «pessimistic» interpretations had maintained in relation to the importance of the mining sector to explain the slowness of the Spanish economy. Finally, I give empirical evidence that support the «pessimistic» hypothesis, and I criticize that the counterfactual arguments of the optimistic interpretation are not fully demonstrable. As an alternative way, I therefore propose to use the method of comparative history cases.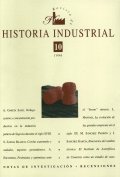 Downloads
License
El/la autor/a cede los derechos al/la editor/a. Creative Commons
El/la autor/a que publica en esta revista está de acuerdo con los términos siguientes:
El/la autor/a cede en exclusiva todos los derechos de propiedad intelectual al/la editor/a para todo el mundo y toda la duración de los derechos de propiedad intelectual vigentes aplicables.
El/la editor/a difundirá los textos con la licencia de reconocimiento de Creative Commons que permite compartir la obra con terceros, siempre que éstos reconozcan su autoría, su publicación inicial en esta revista y las condiciones de la licencia.