The development of the electrical system in Navarre (1888-1986)
Abstract
The evolution of the Navarre electrical installations is one of the numerous examples of the changing panorama of such systems in Spain, where smaller entities became integrated into larger ones. Although the functional characteristics and the survival of traditional systems vary from one place another; the sector in Navarre stands out of the rest for severa1 reasons. Firstly, unlike Guipúzcoa, it possesses sufficient resources and low urban and global demands and, secondly, generally speaking, the provinces, among which Guipúzcoa, which was already engaged in an advanced process of industrialization, and the backward Navarre alike, encountered difficulties in benefitting from the progressively developing services of big companies. Whatever the causes, it cannot be denied that the traditional systems, though obsolete in their organization and technology, have nevertheless contributed greatly to the regional economic development, an issue that has sometimes been forgotten.
Downloads
Download data is not yet available.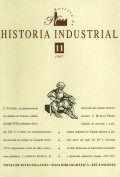 Downloads
License
El/la autor/a cede los derechos al/la editor/a. Creative Commons
El/la autor/a que publica en esta revista está de acuerdo con los términos siguientes:
El/la autor/a cede en exclusiva todos los derechos de propiedad intelectual al/la editor/a para todo el mundo y toda la duración de los derechos de propiedad intelectual vigentes aplicables.
El/la editor/a difundirá los textos con la licencia de reconocimiento de Creative Commons que permite compartir la obra con terceros, siempre que éstos reconozcan su autoría, su publicación inicial en esta revista y las condiciones de la licencia.