Sectorial exchange relations and industrial development. Spain, 1954-1972
Abstract
This paper offers a sectorial approach to the trend of Spanish prices during the 1950s and 1960s, the period of most rapid income growth and consolidation of the industrialization process in Spain. We have done this through a revision of the implicit sectorial deflators obtained from the interlinked data series made up from the National Accounts. The final aim is to highlight, through an analysis of the determining factors in the modernization of the relative price structure, the costly sectorial imbalances under which industrial development was achieved in the 1960s.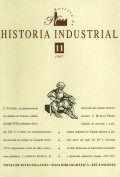 Downloads
License
El/la autor/a cede los derechos al/la editor/a. Creative Commons
El/la autor/a que publica en esta revista está de acuerdo con los términos siguientes:
El/la autor/a cede en exclusiva todos los derechos de propiedad intelectual al/la editor/a para todo el mundo y toda la duración de los derechos de propiedad intelectual vigentes aplicables.
El/la editor/a difundirá los textos con la licencia de reconocimiento de Creative Commons que permite compartir la obra con terceros, siempre que éstos reconozcan su autoría, su publicación inicial en esta revista y las condiciones de la licencia.