The Spanish Sephardic Jews and the Italian Silk Manufacture in the Early Modern Ages
Abstract
A considerable number of the Jews who left Hispanic Kingdoms after the expulsion decree of 1492 were artisans and merchants specialized in the production and sale of silk fabrics. Their arrival in different States of Italian Peninsula contributed to the formation and achievement of a cloths manufacture (taffetas, veils and gauzes) of Spanish origin. This review emphasizes on Jews and New Christians role in working of light silk cloths in late Middle Ages iberian territories. It also examines the technical distinctive feature of their production means and finished goods to demonstrate their penetration in Italy and the continuity of that productive technology and pattern. Some Italian Princes offered protection and privileges to the sephardic immigrants, with the purpose of developing own silk industry (the Dukes of Ferrara, for example). In other cities (like Naples, Milan and Bologna) the commercial success of the new kind of cloths determined a partia1 reconversion of the local silk manufactures.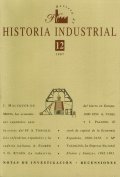 Downloads
License
El/la autor/a cede los derechos al/la editor/a. Creative Commons
El/la autor/a que publica en esta revista está de acuerdo con los términos siguientes:
El/la autor/a cede en exclusiva todos los derechos de propiedad intelectual al/la editor/a para todo el mundo y toda la duración de los derechos de propiedad intelectual vigentes aplicables.
El/la editor/a difundirá los textos con la licencia de reconocimiento de Creative Commons que permite compartir la obra con terceros, siempre que éstos reconozcan su autoría, su publicación inicial en esta revista y las condiciones de la licencia.