The Capital Stock of the Spanish Economy, 1900-1958
Abstract
This paper provides an estimate in I990 constant pesetas of the Spanish stock of capital between 1900 and 1958. The estimate is directly based on the progress made by the quantitative economic history in Spain in recent years. We employ a quite similar method as F.Pérez, M.Mas y E.Uriel in their estimation of the stock of public capital published in 1995. An additional contribution of the paper is to present the trends of the capital/product and capital/labour ratio between 1900 and 1958 in order to identify the main periods of the Spanish industrialization before its last phase during the 1960 s.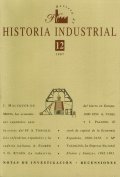 Downloads
License
El/la autor/a cede los derechos al/la editor/a. Creative Commons
El/la autor/a que publica en esta revista está de acuerdo con los términos siguientes:
El/la autor/a cede en exclusiva todos los derechos de propiedad intelectual al/la editor/a para todo el mundo y toda la duración de los derechos de propiedad intelectual vigentes aplicables.
El/la editor/a difundirá los textos con la licencia de reconocimiento de Creative Commons que permite compartir la obra con terceros, siempre que éstos reconozcan su autoría, su publicación inicial en esta revista y las condiciones de la licencia.