Shipbuilding Schemes and Economic Development: the «Empresa Nacional "Elcano" de la Marina Mercante» and the Industrializing Dream of J. A. Suanzes (1942-1963)
Abstract
The Instituto Nacional de Industria created in I943 the Empresa Nacional "Elcano" de la Marina Mercante with the aim of promoting the development of shipbuilding and shipping industries in Spain. Both sectors had a substantial strategic and economic importance for the Government of Franco. The head of the INI, J. A. Suanzes, stressed the relationship between naval power and industrialization. During his term of office, Elcano became one of the five most important firms of the INI group, and appeared among the top twenty-jive Spanish big companies in 1948 and 1960. This paper examines the role played by Elcano in the development of Spanish shipbuilding industry in the years 1942-1963, whether the industrializing dream of Suanzes came true or not, and its opportunity cost for the Spanish economy.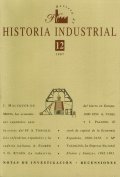 Downloads
License
El/la autor/a cede los derechos al/la editor/a. Creative Commons
El/la autor/a que publica en esta revista está de acuerdo con los términos siguientes:
El/la autor/a cede en exclusiva todos los derechos de propiedad intelectual al/la editor/a para todo el mundo y toda la duración de los derechos de propiedad intelectual vigentes aplicables.
El/la editor/a difundirá los textos con la licencia de reconocimiento de Creative Commons que permite compartir la obra con terceros, siempre que éstos reconozcan su autoría, su publicación inicial en esta revista y las condiciones de la licencia.