The Sant Joan de les Abadesses coal railway (1867-1900). The frustration of a strategic enterprise
Abstract
This study shows how the development of the industrialization process created an increasing demand of coal in Catalonia. This raw material had to be imported from England. The contemporaries expected to overcome the increase in coal prices through the exploitation of the Sant Joan de les Abadesses coal mines, in the Catalan Pyrenees. To reach this aim a railway from Barcelona to the coal mines had to be built, which was finally achieved after severa1 unsuccessful attempts between I870 and 1880. Afterwards, the coal mines demonstrated they did not contain the expected quatities of coal, and also that its quality was not good enough. Therefore, the men involved in this business -especially Félix Macia Bonaplata, who was the true maker of this rail track- lost nearly all the invested capitals.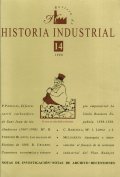 Downloads
License
El/la autor/a cede los derechos al/la editor/a. Creative Commons
El/la autor/a que publica en esta revista está de acuerdo con los términos siguientes:
El/la autor/a cede en exclusiva todos los derechos de propiedad intelectual al/la editor/a para todo el mundo y toda la duración de los derechos de propiedad intelectual vigentes aplicables.
El/la editor/a difundirá los textos con la licencia de reconocimiento de Creative Commons que permite compartir la obra con terceros, siempre que éstos reconozcan su autoría, su publicación inicial en esta revista y las condiciones de la licencia.