The Riotinto riots of 1888 according to the managers of The Rio Tinto Company Limited
Abstract
This article provides new information about the mining and agricultura1 demonstration that took place in Riotinto on February 4th 1888. The management of The Rio Tinto Company Limited, in London, asked Riotinto for a report on what had happened. The original transcript of the report sent to London is here presented, and the differences between the several viewpoints the report contained and other interpretations given in Spanin at the time are thereafter discussed in this article.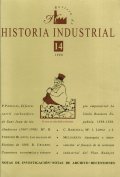 Downloads
License
El/la autor/a cede los derechos al/la editor/a. Creative Commons
El/la autor/a que publica en esta revista está de acuerdo con los términos siguientes:
El/la autor/a cede en exclusiva todos los derechos de propiedad intelectual al/la editor/a para todo el mundo y toda la duración de los derechos de propiedad intelectual vigentes aplicables.
El/la editor/a difundirá los textos con la licencia de reconocimiento de Creative Commons que permite compartir la obra con terceros, siempre que éstos reconozcan su autoría, su publicación inicial en esta revista y las condiciones de la licencia.