Economic conjuncture and entrepreneurial strategy: La Unión Resinera Española, 1898-1936
Abstract
This article studies the development of La Unión Resinera Española, leader company of Spanish resin industry and one of the largest in the timber sector; from its foundation in 1898 unti1 1936. Emerged after a wide and complex horizontal concentration process, had as initial objective to reach a market power next to the monopoly. However; throughout the analyzed period the company adapted its dimension, strategy and objectives to the changing conjuncture (economic and sectorial), the institutional framework and the technological evolution. Having consolidated its predominance in the home market, on the basis of some high-quality products, La Unión Resinera Española tried to guarantee a significant presence in the international markets, only possibility of growth for a company with certainly ambitious objectives.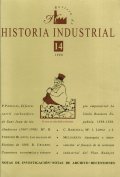 Downloads
License
El/la autor/a cede los derechos al/la editor/a. Creative Commons
El/la autor/a que publica en esta revista está de acuerdo con los términos siguientes:
El/la autor/a cede en exclusiva todos los derechos de propiedad intelectual al/la editor/a para todo el mundo y toda la duración de los derechos de propiedad intelectual vigentes aplicables.
El/la editor/a difundirá los textos con la licencia de reconocimiento de Creative Commons que permite compartir la obra con terceros, siempre que éstos reconozcan su autoría, su publicación inicial en esta revista y las condiciones de la licencia.